Wednesday

,

May 2:

International Film Festival

TBA;

Performance TBA. Presentations start on 3rd floor at 19:30h.



Thursday

,

May 3:

International Film Festival

TBA; Jue Wang (China); Stephen Weeks (UK) and Lucien Zell (CZ/US);

Presentations start on 3rd floor at 19:30h.



Friday

,

May 4:

International Film Festival

TBA; Czech Ensemble TBA;

Presentations start on 3rd floor at 19:30h.



Saturday

,

May 5:

International Film Festival

TBA; Echofluxx Ensemble; Brigid Burke (Australia) and Mark Zantor (West Virginia).

Presentations start on 3rd floor at 19:30h.

---


Středa

3. května:

Mezinárodní filmový festival

. Prezentace začít ve 3. patře ve 19:30h.



Čtvrtek

4.května:

Mezinárodní filmový festival

. Prezentace začít ve 3. patře ve 19:30h.



Pátku

5 květen:

Mezinárodní filmový festival

. Prezentace začít ve 3. patře ve 19:30h.



Sobota

6 květen:

Mezinárodní filmový festival

. Prezentace začít ve 3. patře ve 19:30h.


Echofluxx Description/popis festivalu



Echofluxx is a festival of new media, visual art, and experimental music produced by Efemera of Prague. This year it will again present international and Czech performers in a four-day festival at Paralelní Polis in Prague, May 2-5, 2018.



Echofluxx

je festival nových médií, vizuálního umění a experimentální hudby produkované Efemera Prahy. Letos se opět představí mezinárodní i české interprety v čtyřdenním festivalem v Paralelní Polis v Praze, květen 2018 2-5.



Festival Concept/koncept festivalu

.


The echo of the fluxus movement resonates in this time—an ongoing hedge against the exclusivity of discipline-specific art and music.

Echofluxx

, a festival of new media, art and music, presents a spectrum of new art and music, from experimental film and poetry, to experimental music and art. It uses an organic curatorial method, with artists suggesting artists who would like to present with other artists, and so on. The festival is made possible with the assistance of volunteer help and in-kind support.

Ozvěna Fluxus pohybu rezonuje v tomto časovém o probíhající zajištění proti exkluzivity disciplíny-specifické umění a hudby.

Echofluxx

, festival nových médií, umění a hudby, představuje spektrum nového umění a hudby, od experimentálního filmu a poezie až po experimentální hudbu a umění. Využívá organické kurátorský metodu, s umělci, což naznačuje, umělce, kteří by chtěli prezentovat s dalšími umělci, a tak dále. Festival je možné s pomocí dobrovolníků pomoc a in-laskavou podporu.



The banner at the top of this page is from a larger work by composer, performer and visual artist

Brigid Burke

of Melbourne, Australia.




---
Donate to Echofluxx/darovat Echofluxx
Echofluxx

is produced gratis by FMErá

,

a small group of dedicated international artists.

Please Click on the donate button below to help out.



---

Live Broadcast with David Means and Michael Karman. Click on the photo below for pre-festival interviews and live festival broadcasts.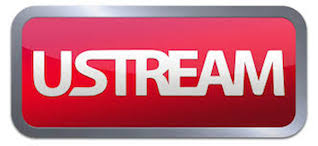 ---

Stephen Weeks

(CZ/UK) is a writer, conservationist, and filmmaker.
For thirty years he lived in a twelfth-century castle in Wales, which he restored. For the last 14 years he has lived in Prague. His films, as writer/director/producer, include the horror films, I, Monster and Ghost Story. Sir Gawain and the Green Knight (and his own remake of it, Sword of the Valiant) are Arthurian romances, the latter starring Sir Sean Connery as the Green Knight. His novels include Daniela, a tragic love story set mainly in Prague 1944-'45, and Awakening Avalon, a supernatural thriller. His latest novel is The Nerve Doctor, a bizarre glimpse into the lives of two doctors setting up again in Prague in 1946. His return to making films is marked by The Pain of Mrs. Winterton, set in the last years of British India, and based on his novel to be published in 2017. He is still actively restoring castles in various parts of Europe.
Lucien Zell
(CZ/US) is a California-born poet who has lived 18 years in Europe where the press Dharmagaia have published three collections of his poetry: The Sad Cliffs of Light (1999), Eden's Midnight Playground (2003), and Bright Secrets (2006). His poems have also been published in The New Orleans Review, The Liberal, Cafe Irreal, and numerous other literary journals. Winner of first prize in the category of Vanguard Haiku by World Haiku Review, his haiku have appeared in The Heron's Nest and the forthcoming issue of Frogpond. Currently based in Prague, Zell's the frontman of the alternative rock band The Wavemen.
Brigid Burke (Melbourne)
is an Australian com
poser, performance
artist, clarinet soloist, visual artist, video artist and educator whose creative practice explores the use of acoustic sound and technology to enable media performances and installations that are rich in aural and visual nuances. Her work is widely presented in concerts, festivals, and radio broadcasts throughout Australia, Asia, Brazil, Europe and the USA. Recently she has been a recipient of an Australia Council Project Music Fellowship & new work commissions 'Coral Bells' & "Instincts and Episodes' also Artist in Resident at Marshall University USA with a Edwards Distinguished Professor Artist Residency 2015 &17with ensemble BHZ, Indiana University but and ADM NTU Singapore. Also recently she presented works on the Big screen at Federation Square Melbourne, Tilde Festival, ABC Classic FM, International Media Festival Echofluxx in Prague and Generative Art Festivals GA19 Italy. She has a PhD in Composition from UTAS The University of Tasmania and a Master of Music in Composition from The University of Melbourne.

Mark Zanter

(West Virginia) iis composer/performe
r, has received commissions from the UIUC Creative Music Orchestra, CU Symphony, the American Composers forum, the WV Commission on the Arts, WVMTA, Due East, Solen Dikener, Rick Kurasz, Cetin Aydar, Ankara University Soloists, Lindsey Goodman, Trifecta!, Awea Duo and many others. He has appeared as a composer and performer on NPR's Live at the Landmark, WILL, IPR, Second Sunday concerts, on WVPN In Touch With The Arts, is published by Les Productions d'OZ, Schott European American and MJIC Music publishing, his works have been performed nationally and internationally at festivals including, MUSIC X, June in Buffalo, The Cortona Contemporary Music Festival, NYCEMF, the Atlantic Center for the Arts. He is the recipient of grants/awards from The American Society of Composers and Publishers (ASCAP), The American Music Center (AMC), The American Composers Forum (ACF), Meet the Composer, The West Virginia Division of Culture and History, WV Music Teachers Association; in 2014 Lament and dream for string orchestra, piano and percussion received special distinction for the ASCAP Rudolph Nissim Award. Dr. Zanter is equally at home performing standard repertoire, creative music, and jazz and has appeared with orchestras, chamber groups, and improvisers, including the Huntington Symphony Orchestra, the Ohio Valley Orchestra, Sinfonia Da Camera, Anthony Braxton, Roscoe Mitchell, Leroy Jenkins, Vinko Globokar, George Lewis, Butch Morris, and Alphonse Mouzon. He has recorded with Deborah Richtmeyer, Vinko Globokar, and his recording of Composition 165 with Anthony Braxton received special mention in Downbeat Magazine.


J
ue Wang
(China)
is a pianist and composer based in New York City. She is the founder and the artis
tic director of
It's A Secret Performance
– a theater group that works on immersive music theater performances with surround sound system. Jue's recent music compositions often combine of acoustic instrumental sound and pre-recorded electronic music. Through frequently presenting raw and physical sound materials in unusual close-up performance spaces, Her work intend to stimulate a sense of intimacy for the audience, which addresses the dialectic relationship between private and public in a performance. Apart from her sonic experiments, Jue's recent compositions have been focusing on expanding the visual and the theatrical dimension of musical performance. Jue explores dramatic forms of performance including object-oriented performance, magic shows, sound sculptures and videos. Her ongoing immersive theatrical project series, titled Bedroom Performances, intend to bring together all these theatrical and magical elements in the most immersive sense. Jue's another focus is to work on experimental music performances with children in the age range from 6 to 12 years old. As a Ph.D. student, her academic research examines children's relationship to abstract sound and experimental music. She seeks more opportunities to bring young performers and young audiences into the realm of experimental music. Jue has been honored with performances of her music throughout China, United States and Europe by ensembles including Jack Quartet, Talea ensemble, Momenta Quartet, Loadbang, Orchestra of the League of Composers, Krulik Quartet. She has also worked with established solo performers such as Thomas Buckner, Miranda Cuckson and William Lang. A review by Cleveland Classical in 2012 has described her as "having a sensitive ear and original voice … surely someone we will be hearing much about in the future". In the same year, her chamber opera, Scholar, Monk, Snake, was selected by the Center for Contemporary Opera to be performed in NYC. Jue received her B.M. degree at Oberlin Conservatory and is currently pursuing her Ph.D. at New York University.
Vimeo

David Means
(Minneapolis)
graphic scores, installations and performance systems have been exhibited and presented by the Walker Art Center, IRCAM, Documenta IX, the Xi An Conservatory of Music (China), Het Stroomhuis (Holland), Logos Foundation (Belgium) and the Arts Council of Great Britain. He is currently an Associate Professor of Media and Fine Arts and producer of the Strange Attractors Festival of Experimental Intermedia Art at Metropolitan State University. David contributed greatly to Echofluxx 12 as a technician,
performer
,
U-Stream interviewer
and
video-photo documentarian
for
Echofluxx 12-17
See David's site
here
.

Michael Karman

(Zagreb) is the publisher, editor, and chief writer of

Asymmetry Music Magazine

, an online magazine devoted to contemporary music. Karman lives in Europe and around the United States after many years living in the Los Angeles area. He trained as a musician, is a novelist, and has taught writing for many years at university. He performs with the Echofluxx ensemble and is a incredible phtographer of Wisconsin ice. Here is a recent interview of Michael in a Portland publication.





Nicholas Senn (US)

is a Milwaukee-based artist born in Australia and trained in the US. He currently runs a sports promotional video service but has worked extensively as a film hand, documentarian and experimental filmmaker. He has a degree in film from the Peck School of the Arts in Wisconsin.




Dan Senn
(Prague-Wisconsin)
is an intermedia artist working in music composition, kinetic sound sculpture,
experimental and documentary film. He has been a professor of music and art in the United States and Australia. Dan travels internationally as a lecturer, performer and installation artist living in Prague where he directs the Echofluxx festivals, and Watertown, Wisconsin, the
USA, with his partner- collaborator, Caroline Senn. Dan's work moves freely between expressive extremes and languages depending upon the aesthetic joust at hand. He studied music (composition, French Horn, conducting) and art (ceramics) at the University of Wisconsin at La Crosse with Truman Daniel Hayes, Leonard Stach and William Estes, and at the University of Illinois, Urbana (composition), with Salvatore Martirano, Ben Johnston and Herbert Brün. His music is published by Smith Publications of Baltimore. His work for "Any Three Treble Instruments In the Same Key," called "Rivus," was released in 2015 by Ravello Records, along with works by Scotto and Cage and performed by the McCormick Percussion Group. In 2017 his work "Four Psams Modal" was premiered by the Kuhn Choir of Prague, and his "Seven for Piano" was premiered in February 2017 by Caroline Senn in Wisconsin. Dan founded Newsense-Intermedium of Tacoma, Washington, and cofounded Roulette Intermedium of New York City. He is the artistic director of Echofluxx which he cofounded with Anja Kaufmann in 2011.
.
---

In a Curious Way is for movement, images, voices, clarinet, guitar, and touch pads. Shapes, images, sounds, and voices combine to form an improvisational movement opera based on a set of drawings from 1975. In a Curious Way traces imaginary and surreal pathways and mannerisms of three characters and four musicians as they interact with amplified scores, projected images, and movement patterns within an imaginary space. David Means (director) – touch pads and amplified scores, Maureen Koelsch – choreography, Mary Garvie – voice, Brigid Burke – clarinet, Mark Zanter – electric guitar, Michael Karman – touch pads, Oskar Kubica – touch pads.

The Echofluxx Ensemble began in 2012 at the invitation of Dan Senn, founding artistic director and producer of the Echofluxx Festivals of New Media, Music and Art, based in Prague. Established by David Means and Michael Karman, the ensemble has featured a number of internationally renowned musicians and artists including Joanna Adamczewska (PL), Brigid Burke (Aus), John Keston (US), Agnes Kutas (Budapest), Lucie Vitkova (Brno), Mark Zanter (US), and Ladislav Železni (CZ).



David Means studied architecture at the University of Illinois, where he participated in John Cage's first Music Circus. He later pursued DMA studies in composition with Ben Johnston, Herbert Brűn, and Salvatore Martirano. Since moving to Minnesota in 1978 he's received numerous awards, fellowships, exhibitions and commissions from New Music America (Minneapolis, Hartford, Houston), IRCAM (Paris), Documenta 9 (Kassel), and received five McKnight Composer Fellowships since 1982. In 1997 he founded the Strange Attractors Festivals of Experimental Intermedia at Metropolitan State University, where he retired in 2017 as professor emeritus of music and intermedia art.

Michael Karman

was born some time ago in Northern California. His youth and some of his adult life was misspent in Southern California. He went to different schools here and there and was married and divorced a few times but has three talented sons and many lovely friends, so it all works out. He also writes poetry, paints, and photographs (the three P's). He currently lives in Barcelona, Spain.



Maureen Koelsch

is a spirit on the wind. Dance, theater,
writing and collage are stirred, swirled and reconfigured by her creative imagination. Originally trained in the grounded modern dance of Mary Wigman via Margret Dietz her work also breathes the influence of other modern masters, improvisation, body mind centering, butoh, trapeze. She has explored, expanded, overturned and exploded the performance venue setting a trajectory from formal theatrical stage to alternative spaces, outdoor landscapes, roving choreography, intimate spaces and back to alternative small venues. (Dancing to the River was a moving of grief into action with community and colleagues just days after 9/11; Peace Project was a 3-part daylong rededication to peace in different sites with adults, children, artists and onlookers in an interactive public art work; To Have Come This Far gathered movement phases in Loring Park and set them to dance scores across the Armajani bridge connecting the park to the Minneapolis Sculpture Garden.) (As a performer she recently performed in Merce Cunningham's Field Dances as a component of the exhibition of work by Merce Cunningham/John Cage at the Walker Art Center in Minneapolis MN.) As an Imaginarian she develops and directs workshops that construct emotionally thoughtful creative environments for artistic experimentation. (Maps: Pathways & Passages for the Weisman Art Museum, Minneapolis MN; Twist & Shout, the new needle arts for Pelham Art Center, Pelham NY; Animals & Architecture for working Artist Retreat, Mount Vernon ME & Lanesboro MN). (Art Ingenuity Lab, Gravity & Levity, This Haunting, The Art of Surrender reimagining release resistance resilience, Incubate-Edit, Home Exile) listen w/the ear of a cricket, Wake Me When I'm Ready and Skinned: stories told & untold-hand head heart are her most recent workshops. She has a long and thriving creative relationship with David Means and Mary Garvie. (Together they have kicked up a lot of dust devils and created provocative and poignant work.)
Mary Garvie sings and makes fine pottery. She was a founding member of the Nobles eXperimental interMedia Group (Minnesota) and performed in several dance-theater works by Georgia Stephens (Minnesota). She has also been involved in collaborations with choreographer Maureen Koelsch, composer David Means, writers Jon Spayde and Michael Karman, and has performed with the Echofluxx Ensemble since 2016.

DOCUMENTATION OF PAST
ECHOFLUXX FESTIVALS

.



FamaQ PROGRAM
- Karel Husa(*1921)
(video)
, String Quartet no.4 "Poems"

(1989)
, I. Bells,
II. Sunlight
,
III. Darkness
,
IV. Hope
,
V. Wild Birds
,
VI. Freedom
;
Daniel Matej

(*1963)
(video)
Nice

(2004/2011)
; Martin Burlas

(*1955)
(video)
Panadol

for string quartet and CD track (2006);
Georg Friedrich Haas

(*1953)
(video)
, String Quartet no.5 (2007).
Hong Kong New Music Ensemble PROGRAM

-
Sailing Along the Heart of Remembrance
(video)
by
Austin Leung;
Vexatious

by
Joungmin Lee
(video);
Vortex Illusion
Mei-Fang Lin
(video);
Au Revoir, Svetozar

by
Rodney Waschka II
(video);
the hands we used to make were clay
(video)
by

Sarah Westwood;
Ding II

by

Stephen Yip
(video).
M
ario va Horrik and Petra Dubach PROGRAM

-
The Table Piece
(video)
; Maciunas Ensemble PROGRAM -
For Paul
(video).
BITCOIN Cafe Performances
PROGRAM -
Marek Hlaváč
(video);
+x
(video)
; Jiří Suchánek
(video);
Echofluxx Ensemble PROGRAM

-
Apropos of Not That
(video).

(Click on artist for sound/video)
Echofluxx Ensemble,
David Means, Director
Lucie Vítková, solo performance
John Keston
,
solo
performance
Lenka Kozderkov
á

,

work by Dan Senn
Lenka Kozderkov
á, work by
Lucie Vítková
Lenka and
Markéta 1 of 2, ensemble work
Lenka and
Markéta 2 of 2, ensemble work
Agnes Kutas 1 of 2,
solo
performance
Agnes Kutas 2 of 2,
solo
performance
Brigid Burke
,
solo
performance
Phaerentz
,
solo
performance
Dariusz Mazurowski
,
solo
performance
Michal Kindernay
,
solo
performance
Mark Zanter
,
solo
performance
Puppenklinik Installation,
Diana Winklerová
& Dan Senn (sound only)


Echofluxx 11 Documentation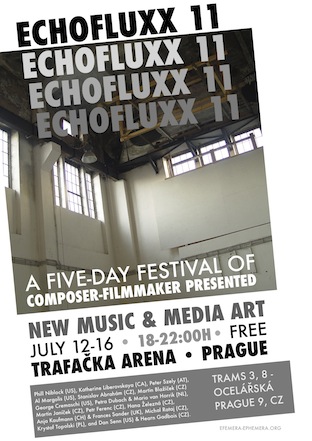 (Click on artist for video)
Phill Niblock, Phill & Katherine Liberovskaya, Katherine & Al Margolis, Al Margolis, Michal Rataj, Michal and Ivan Boreš, Ivan Boreš, Peter Szely, Martin Janíček & Petr Ferenc, Martin Blažíček & Krzysztof Topolski, Anja Kaufmann & Frances Sander, George Cremaschi, Hana Železná, Petra Dubach & Mario van Horrik, Hearn Gadbois.


.
Echofluxx 11 site