Wednesday

,

May 1st

, 19:30:

International Film Festival

with works by

Jenny E. Balisle "Line", Lynn Bianchi Robert Bianchi, & Irina Abraham "Undivine Comedy", Ben Lieberman & Bradley Turner "Aftergrowth", William A. Brown "Slowly Showing", and Young Shin-Choi "Sigan";

Ensemble Terrible

(

postcard

)

with works by J-T Vesikkala Wittmacher "miniatures from Insulae" (premiere)

video

, Ravi Kittappa "KUBA" for tenor sax and electronics

video

, Soňa Vetchá "Blue-green Colors of Light" (premiere)

video

, Barry Wan Yuk Bun "The Misty Morning" (premiere)

video

, Bruno Cunha "Seja marginal, seja herói, for solo bass & electronics" (premiere)

video

. and then Jan Kruml "Instinct Primal"(

postcard

)

video.

Program 1 PDF

S

ee Night 1 Photos





Thursday

,

May 2rd

, 19:30:

International Film Festival

with works by

Brigid Burke "Glutonous Wabling", Diego Ratto & Hans Richter "Ghosts Before Breakfast", Nicola Frattegiani "Gusseisen", and Nathan Corder "Sine Study"; Dan Senn "Sleight of Hand";

Jana Babincová

&

Pavla Zábranská

"Zákon/The Law"

intro

(

postcard

)

video

;

Phaerentz

"Improvisations" (

postcard

)

video

; Brigid Burke

(

postcard

)

"Crossing Worlds...Vines… Lines"

video

.

Program 2 PDF

See Night 2 Photos





Friday

,

May 3rd

, 19:30:

International Film Festival

with works by

Edward Ramsay-Morin "C-5-11",

Jacek J. Kolasiński

& Orlando Jacinto Garcia "Stadtluft Mach Frei", Sonja Mutić "sh(out)", Harvey Goldman & Jing Wang "Uriel"; Phill Niblock & William Hooker "Hooker-Niblock" (

postcard

)

,

James Sutherland-Smith

, poetry, "Do What Comes Unnaturally" and "The River and The Black Cat."

video

(

postcard

)

;

Hearn Gadbois

(

postcard

)

"Time Travel from a Small Cabin in the Timbre"

video.

Program 3 PDF

See Night 3 Photos



Saturday

,

May 4th

, 19:30:

International Film Festival

with works by Dong Zhou & Yi Sun "The Silent Land", Charles Peck "Ferrous", Anthony

Almendárez

"Welcome Valued Customer", Lana Z Caplan "Autopoiesis", Talksong Lee & Jee Seo "The Bride of Frankenstein";

Echofluxx Ensemble

(

postcard

)

performing "Perfect"

with

David Means (director),

Oskar Kubica, Michael Karman, Matt Manowski,

and

Mary Garvie

video

;

Bruno Cunha

(

postcard

)

"live improv using clarinet extended techniques & electronics"

video

.

Program 4 PDF

See Night 4 Photos

The

Echofluxx

festivals are rooted in the mindfulness of Cage, the interplay of risk-taking and self actualization, and a resistance to media specificity in art. As spied in the distance to the University of Illinois in Urbana in the 1960s and 70s, collaborating composers emerged working graphically, sculpturally, in dance, theatre, film and clay, and then through a natural post-graduate diaspora, to produce artifacts, organizations, performances and festivals world-wide, the sum of which increases today.



Echofluxx

is a festival of new media, visual art, texts and experimental music produced by FMErá of Prague. This year it will again present international and Czech performers in a four-day festival at Paralelní Polis in Prague, May 1-4, 2019.



Echofluxx

je festival nových médií, vizuálního umění a experimentální hudby produkované FMer

á

. Letos se opět představí mezinárodní i české interprety v čtyřdenním festivalem v Paralelní Polis v Praze, květen 2019 1-4

.



















Jee Seo (Berlin) born in 1985, is a South Korean composer. His music has been performed in Austria, Brazil, Canada, Czech Republic, Greece, Italy, Poland, South Korea, Thailand, Ukraine, and United States (Boston, Los Angeles, and New York). He has been collaborating on a wide range of projects with artists, dancers and filmmakers. Jee studied at the College of Music Chung-Ang University in South Korea and Manhattan School of Music in New York City, and had a residency at the Isang Yun Haus in Berlin. Seo's festival work, the sound score, is for "The Bride of Frankenstein" produced & directed by Talksong Lee.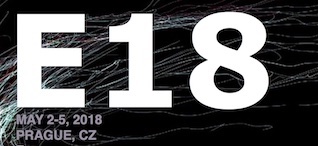 .



FamaQ PROGRAM
- Karel Husa(*1921)
(video)
, String Quartet no.4 "Poems"

(1989)
, I. Bells,
II. Sunlight
,
III. Darkness
,
IV. Hope
,
V. Wild Birds
,
VI. Freedom
;
Daniel Matej

(*1963)
(video)
Nice

(2004/2011)
; Martin Burlas

(*1955)
(video)
Panadol

for string quartet and CD track (2006);
Georg Friedrich Haas

(*1953)
(video)
, String Quartet no.5 (2007).
Hong Kong New Music Ensemble PROGRAM

-
Sailing Along the Heart of Remembrance
(video)
by
Austin Leung;
Vexatious

by
Joungmin Lee
(video);
Vortex Illusion
Mei-Fang Lin
(video);
Au Revoir, Svetozar

by
Rodney Waschka II
(video);
the hands we used to make were clay
(video)
by

Sarah Westwood;
Ding II

by

Stephen Yip
(video).
M
ario va Horrik and Petra Dubach PROGRAM

-
The Table Piece
(video)
; Maciunas Ensemble PROGRAM -
For Paul
(video).
BITCOIN Cafe Performances
PROGRAM -
Marek Hlaváč
(video);
+x
(video)
; Jiří Suchánek
(video);
Echofluxx Ensemble PROGRAM

-
Apropos of Not That
(video).


Echofluxx 11 Documentation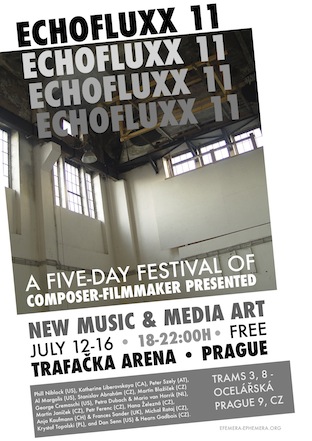 (Click on artist for video)
Phill Niblock, Phill & Katherine Liberovskaya, Katherine & Al Margolis, Al Margolis, Michal Rataj, Michal and Ivan Boreš, Ivan Boreš, Peter Szely, Martin Janíček & Petr Ferenc, Martin Blažíček & Krzysztof Topolski, Anja Kaufmann & Frances Sander, George Cremaschi, Hana Železná, Petra Dubach & Mario van Horrik, Hearn Gadbois.


.
Echofluxx 11 site




J
an Kruml
(Prague) a Czech musician, performer, remixer and mastering engineer. will present his solo project Instinct Primal. Created in with inspiration from the post-industrial and dark ambient scene, Instinct Primal continually develops it's own signature sound-worlds. Utilizing very personal and original field recordings as the primary source material, Kruml is able to extract fine detail from the "melody" lines into networks of noise. The recordings thus come to life purely on their own
, other times with electronic manipulation. Either way, the result has been a series of uniquely brooding compositions.

INSTINCT PRIMAL SITE
Brigid Burke (Melbourne) is an Australian com
poser, performance
artist, clarinet soloist, visual artist, video artist and educator whose creative practice explores the use of acoustic sound and technology to enable media performances and installations that are rich in aural and visual nuances. Her work is widely presented in concerts, festivals, and radio broadcasts throughout Australia, Asia, Brazil, Europe and the USA. Recently she has been a recipient of an Australia Council Project Music Fellowship & new work commissions 'Coral Bells' & "Instincts and Episodes' also Artist in Resident at Marshall University USA with a Edwards Distinguished Professor Artist Residency 2015 &17with ensemble BHZ, Indiana University but and ADM NTU Singapore. Also recently she presented works on the Big screen at Federation Square Melbourne, Tilde Festival, ABC Classic FM, International Media Festival Echofluxx in Prague and Generative Art Festivals GA19 Italy. She has a PhD in Composition from UTAS The University of Tasmania and a Master of Music in Composition from The University of Melbourne. Brigid's gaphic image is used again this year for the Echofluxx banner above!

SITE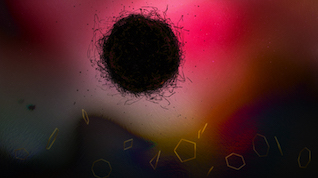 Still from "Uriel" by Goldman and Wang


FILM ARTISTS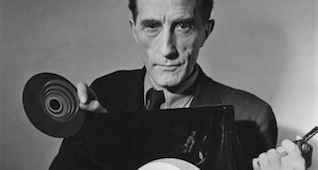 A film by Hans Richtor, "Ghosts Before Breakfast", 1928
with new music by Diego Ratto.


Ensemble Terrible at Echofluxx 18,
Petr Hora conducting.

Ensemble Terrible (Prague) is composed mainly of students and graduates of the Music and Dance Faculty of the Academy of Performing Arts in Prague. The ensemble focuses on contemporary and experimental music of the 21st Century and was introduced to Prague audiences in the autumn of 2016 at a MeetFactory concert. An important social and aesthetic concern of the group is to assist bringing new audiences together by the simple selection of the presentation space. This was the case with recent concerts at Venus in Švehlovec, Pianka Dalibor, and Paralelni Polis for last year's Echofluxx 18, an interdisciplinary art festival. This effectively links the academic environment with related forms of contemporary art. Ensemble Terrible rejects the division of art genres as well as judgments such as "high and low art," or even "good or bad art." What may now seem terrible, in time, may become terribly beautiful.
SITE
Janina Alachnovič (Belarus)
is a student at the Academy of Performing Arts in Prague. She started to learn music theory at seven years old and play flute at eight. At the age of twelve, during study at Music school №1 in Minsk, she made her debut at music competitions in Minsk and Kaunas. In 2006 she won the 3rd prize The First Christian Festival "Blagovest" Minsk. At the age of sixteen Yanina decided for professional music education and continues her studies at Gymnasium-college of Arts "I. O. Akhremchik" in Minsk. In 2012 she won 2nd prize at the XVII International Competition n.a. E. Coca in Chisinau, Moldova and in 2013 and 2nd prize at the V International Competition "Surmi Bukoviny" Chernivtsi, Ukraine. Also as a soloist she performed with youth wind orchestra "Fanfares of Nemiga" on festivals in Belarus, Italy, France and Poland. In 2015 Yanina become a student of Jiří Válek's and Mario Mesany's in Academy of Performing Arts in Prague. She also studied at master courses with Samuel Coles, Michael Schmid, Janet Richardson and summer school in Diekirch, Luxembourg. Yanina performs in the concerts of classical, contemporary and improvisation music. From 2017 working as the flute teacher in The International School of Music and Fine Arts in Prague.
SITE
Štěpán Drtina (Prague)
studied with Renata Strašrybková at Prague conservatory and graduated at Academy of Performing Arts in Prague, where he studied with prof. Miroslav Petráš and Michal Kaňka. He attended many competitions such as Prague Junior Note, international competitions in Liezen, Austria (2004 and 2008) and competition of Bohuslav Martinů Foundation (2012). He participated in masterclasses with Miroslav Zicha, Jiří Bárta, Dmitrij Ferschtman, Anner Bylsma, Wolfgang Boettcher, Ludwig Quandt and Rudolf Gleissner. He is member of Bořkovec String Quartet and performs with prominent Czech orchestras and ensembles, such as FOK, Orchestra Berg, Talich Chamber Orchestra or Prague Modern).

Tomáš Novák
(Prague)
studied double bass with Jakub Waldmann at Gymnázium Jana Nerudy. He continued his studies with Anton Schachenhofer at Anton Bruckner Universität in Linz and now continues his Master's Degree with Jiří Hudec at Academy of Performing Arts in Prague. He regularly attends masterclasses at JAMU with accomplished double bass teachers such as Catalin Rotaru, Ekkehard Beringer or Thierry Barbe. He is currently a member of Karlovy Vary Symphony Orchestra and Orchestral Academy of Prague
Radio Symphony Orchestra.
David Danel (Prague),
violin, received his musical education at the Janacek Conservatory of Music in Ostrava and at the University of Ostrava Institute of the Arts. Mr. Danel has won prizes in several national and international competitions including the L. van Beethoven International Violin Competition and the L. Janacek Violin Competition Brno, appeared as soloist with orchestras in the Czech Republic and abroad, and he performed as soloist at such festivals as the Prague Spring, Contempuls, Forfest ao. Between 2000 – 2011 he was a member of the PKF - Prague Philharmonia and Guest Lecturer at the University of Ostrava. His strong interest in contemporary music is reflected in his performances with the new music group MoEns (formerly Mondschein Ensemble), the international Ostravska Banda, the Prague-based Early Reflections and in his artistic direction of ensemble Prague Modern (in 2015 the group was awarded Coup de Coeur Award by the French Academy of Charles Cros for the recording of Dai Fujikura music, appearances at Musica Strasbourg, Festival Besancon ao.). He is also a founder of a string quartet fama Q that has performed at the prestigious festivals such as Contempuls Prague, Prague Spring Festival, Israel Festival Jerusalem, Cluj Modern (Romania), ISCM World New Music Days, MusicOlomouc (CZ), Exposition of New Music Brno (CZ) etc., on concerts and tours to France, Japan, Romania, Slovakia, Spain and the USA.
SITE
Michael JERMÁŘ (Prague)
studies at the Prague Conservatory (prof. Pavel Fiedler, Pavel Škrna). In July 2014 he accepted the invitation of excellent French saxophonist Philippe Portejoie to study in his class at the Conservatoire ŕ Rayonnement Régional de Paris, the Paris Conservatory, where he stays 2014-2016 studying both schools simultaneously. In 2016 Michael begins his Bachelor studies at the University of Ostrava (prof. Zbigniew Kaleta, PhD.), in the same year he graduates at Prague Conservatory playing Jacques Ibert's Concertino da camera accompanied by the Conservatory orchestra and giving a Graduation recital. In academic year 2017/2018 he does his Erasmus+ Programme at the Uniwersytet Muzyczny Fryderyka Chopina (UMFC - Chopin University) in Warsaw, where prof. dr. hab. Paweł Gusnar and Mgr. Pablo Sánchez-Escariche Gasch lead him. In 2014 Michael recorded the saxophone episode of "Filharmonici na ulici," a show by the Czech Television, and premiered "Three pieces for alto saxophone solo" by Hanuš Gočár. In 2018/2019 he is looking forward to premiere "BACH'erevko," a piece written and dedicated to him by world-famous French composer François Rossé. Under the baton of flutist Philippe Bernold, Michael performed Ravel's Boléro with the Janáček Philharmonic Ostrava and collaborated with the Czech Philharmonic Student Orchestra as well as the Orchestre Symphonique du CRR de Paris.
SITE

Petr Hora
(Prague)
was born in Chrudim and studied organ and composition at the Conservatory of Teplice. Then he continued his studies in composition with Hanuš Bartoň and Luboš Mrkvička at the Music faculty of the Academy of Performing Arts in Prague.

Soňa Vetchá (Prague) studied piano at the Brno Conservatory in class of Dagmar Pančochová and composition in class of Pavel Novák - Zemek. Now she studies composition at the Academy of Performing Arts in Prague, where she started her first year of doctoral studies with Ivan Kurz. She is also a member of the international association of composers and performers Föreningen Musikspektra T since 2017. She has also participated in several international contemporary music festivals abroad (Brussels, Italy, Sweden, Slovakia, etc.). As part of her master's and doctoral studies, she researches the influence of auditory illusions on the compositional process and its consequences on subjective perception of musical structure, form, and tectonics.

SITE




Ravi Kittappa

(New York City)
is an American composer currently living in Prague. The New York Times recently described the "vivid soundscapes" of a recent performance of his work, Decantations III, as "alluring" and "meditative". Ravi has been commissioned and premiered by Color Field Ensemble, Ensemble Dal Niente, TIGUE and Concert Black, Quince Contemporary Vocal Ensemble, percussionist Owen Weaver, and Talea Ensemble among others. He has been honored to be selected as a participant at international festivals like Ostrava Days, Bowling Green New Music Festival, MATA Festival, and the Bang on a Can Summer Institute. In Spring 2012, Ravi founded the NYC/SF/LA new music series, Permutations, which he co-curates with pianist, Karl Larson. Ravi studied philosophy at The Johns Hopkins University and music at Columbia University. He completed his Ph.D in music composition at University of California, Berkeley. For 2018-19, Ravi is a visiting composer at The Academy of Performing Arts, Prague (HAMU) through the J. William Fulbright Commission.
SITE
J-T Vesikkala Wittmacher
(Finland-Prague), aka Juhani Topias Vesikkala, is a composer, baritone singer, multi-instrumentalist, teacher and writer of music literature. Since 2018, Vesikkala is a doctorate scholar in composition at HAMU, Prague, and specialises in free microtonality and instrumental noise under supervision of Michal Rataj. Vesikkala completed a Master's degree at the Sibelius Academy with T. Nevanlinna and V. Puumala. Between 2012 and 2013, Vesikkala studied with B. Furrer and P. Billone in Kunstuniversität Graz, as well as electroacoustic composition at the IEM.Compositions spanning most acoustic genres, electronic, comprovisation, and intermedial music have been performed worldwide, since 2002 when Vesikkala studied with J. Trbojević and L. Wennäkoski. An extensive thesis on integrated piano multiphonic flageolets research from Vesikkala's previous 2015 Florence acoustics congress paper was published in 2016. Vesikkala's singing career has generated several globally acclaimed premiere recordings of current music with the Helsinki Chamber Choir. Vesikkala's creative flow draws influences from travel, queer feminism, genetics, and Engaged Buddhism.
SITE
Barry Wan Yuk Bun (Prague-Hong Kong) is diverse musician, Czech-based composer, sonic artist and guitarist Barry Y.B. Wan's music has been performed in USA, Mexico, Brazil, Sweden, Belarus, Italy, Czech Republic, Slovakia, Spain, Austria, Germany, Belgium, Japan, Taiwan and Hong
Kong. He consecutively awarded as selected works for its performance during the FORO INTERNACIONAL DE MÚSICA NUEVA MANUEL ENRÍQUEZ, 2012 and 2013 in Mexico City and finalist at SIME international Electroacoustic Music competition 2015 in Lille, France. His work has been presented
in numerous concerts and festivals such as Muestra Internacional de Música Electroacústica MUSLAB in Mexico and Brazil (2014,2017), FEASt Festival in Miami, USA (2014). Örebro contemporary music festival in Sweden (2016), [EX_NIHILO] in Mexico, OUA festival in Japan (2017), PERFORMENSK in Belarus (2018), International Festival of Video Art and Visual Music in Mexico (2018), Festival Nuovi Affreschi Sonori in Italy(2018) and Musica Nova competiton in Czech Republic (2018). In the year 2003 started his musical, animation and photography studies in Hong Kong. From the year 2010-2015 he studied music composition, multimedia composition and Guitar Performance at the Janacek Academy of Music and Performing Arts (JAMU) in Brno, Czech Republic. He earned the LLCM title (bachelor equivalent) of music composition in the year 2014 from London Collage of Music. In 2017, he received the master degree of composition at the Academy of Performing Arts (HAMU) in Prague with specialization in Electroacoustic Music Composition. Currently he is completing the Ph.D. degree at Jan Evangelista Purkyne University in Ústí nad Labem, Czech Republic
SITE
Charles Peck (Cornell)is a composer whose work has been called "daring" (Philadelphia Inquirer), "wild and shimmering" (Broad Street Review), and "substantial, personal, genuine" (Roger Shapiro Fund for New Music). His music, s
panning a range of chamber and large ensembles, has been performed by the Minnesota Orchestra, the Albany Symphony, the Columbus Symphony, Alarm Will Sound, the Kaleidosco
pe Chamber Orchestra, the JACK Quartet, Sandbox Percussion, percussionist Ji Hye Jung, clarinetist Derek Ber
mel, and pianist Holly Roadfeldt. Recently, Peck has received an
ASCAP Morton Gould Award and a commission from the Barlow Endowment and has been named a winner of composition competitions with the New York Youth Symphony, the Lake George Music Festival, the Boston New Music Initiative, the Left Coast Chamber Ensemble, the Salvatore Martirano Memorial Award, the Foundation for Modern Music, the National Federation of Music Clubs, Frame Dance, and Symphony in C, among others. His music been featured at a variety of venues and festivals, including Carnegie Hall, the Aspen Music Festival, the Cabrillo Festival, the Mizzou International Composers Festival, the Civic Orchestra New Music Workshop, the Minnesota Orchestra's Composer Institute, the Beijing Modern Music Festival, the Mise-En Music Festival, the American Music Festival, the New Music Miami Festival, and the New Music Gathering. Peck currently teaches at the University of the Arts in Philadelphia and is a doctoral candidate at Cornell University.
SITE
Young-Shin Choi
(Korea), D.M.A. is a composer for both instrumental and electro-acoustic music with a strong interest in interdisciplinary digital media. Dr. Choi is striving to cultivate an aesthetic based upon a unique combination of musical elements drawn from Korean traditional music and modern Western musical idioms. Recent works were presented throughout the US, Europe, Japan, and Korea. Dr. Choi received his Doctorate degree in music composition (D.M.A.) at the University of California Santa Cruz. He taught Music Theory, Electronic Music and Recording Technology courses at San Diego State University, UC Santa Cruz, Rochester Community and Technical College.
SITE
Dong Zhou

(Hamburg) was born in 1992 in Shanghai. Although from her great grandfather, all generations of her family play traditional Chinese Sizhu Music, she learnt piano from 3 and violin from 9 and played in orchestra from 12. She had her BA in electroacoustic music composition at Shanghai Conservatory of Music and names Qiangbin Chen and Yi Qin as her most significant former mentors. As a composer and multimedia artist, she always tries to create different spaces and layers of sound and combine different languages of art to fully express her point of view and imagination. Her works were presented in Shanghai International Art Festival(2013/2015), the 'Sound of World' Microsoft ringtones collection (2014), SMC(2016/2018), Blurred Edge(2016/2017/2018), WOCMAT(2016/2017), EUROMicroFest(2017), NYCEMF(2017), KlingtGut(2017), ZKM Next Generation(2017) and ICMC(
/2018). She was commissioned by Shanghai International Art Festival in 2015 and CLAB Festival Hamburg in 2018. In ICMC 2018 Hacker-N-Makerthon, her project with Deborah Kim got the first prize. Apart from composition, she has also strong interest in literature, sociology and performance a
rt. She won the second prize in "New Concept" Chinese Youth Liter
ature Contest in 2013 and worked as a trainee editor in Shanghai Writer's Association. As a violinist and performer for multimedia piece, she performed with different g
roups and bands in Shanghai, Hamburg, Karlsruhe, Hannover, Bremen and Oldenburg. Now she is studying multimedia composition (MA) in Hochschule für Musik und Theater Hamburg under Professor Hajdu and Professor Lampson's supervision.
For her Echofluxx video she is
2
017
collaborating with
Yi Sun (Sunny)

who is pictured above.


Benjamin Lieberman
(Queens) is a composer, guitarist, and singer who lives and works in Ridgewood, Queens, with his partner, Emily Rubin, and two very ridiculous creatures some might (questionably) identify as cats, known formally as Alice Coltrane and Francesca Schubert (née Pretzel and Mustard). His musical interests span the gamut from emotive folk songs to psychedelic rock to microtonal chamber music. Ben received a B.A. from Columbia University, where he studied composition and classical guitar with Arthur Kampela, and jazz performance and composition with Paul Bollenbeck, Chris Washburne, Don Sickler, and Ben Waltzer. As a guitarist, Ben has performed throughout New York as well as internationally. His performance credits include the Late Show with Stephen Colbert, the Whitney Museum, the Roundhouse in London, and the KigaliUp festival in Kigali, Rwanda. Presently, he is pursuing an MFA in music composition at Vermont College of Fine Arts, where his advisors include John Fitz Rogers, John Mallia, and Michael Early.