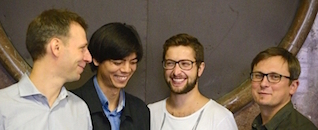 David Danel and Roman Hranička – violins,
Ondřej Martinovský – viola,
Balázs Adorján – violoncello
fama

Q is a string quartet that was founded in 2005 in Prague. Its members, being also orchestral musicians with the Prague Philharmonia, were always devoted to chamber and string quartet music making. fama Q presents regularly the works of contemporary composers, be it the traditional approaches of 20th century or the avant-garde classics (Schoenberg, Berg, Webern, Dutilleux, Cage, Kurtág, Ligeti, Kagel, Nono, Feldman, Xenakis amongst others), as well as prominent international and Czech composers of these days (G. F. Haas, Husa, Kopelent, Smolka, Srnka, Graham, LoudováMarek, Matej, Pudlák, Zemek, Burlas). fama Q paves the way too for emerging young Czech and international authors (Adámek, Pelo, Ho, Kadeřábek, McMullin, Lejava). Finally, fama Q also does not cease to explore the beauty of traditional string quartet repertoire (Haydn, Mozart, Dvořák, Janáček, Shostakovitch, Martinů).
fama

Q
has appeared at renowned Prague concert series such as Přítomnost/Presence, PKF - Prague Philharmonia's Krása dneška/Le Bel aujourd'hui/The Beauty of Today, at festivals such as Contempuls, Der Film, New Music Marathon, Třídení (all in Prague), Exposition of New Music (Brno, CZ), MusicOlomouc, Forfest, You:rope Together (Essen, Germany), Afyonkarahisar Classical Music Festival (Turkey), Evenings of New Music, Festival SPACE (Bratislava, Slovakia), and in concerts in Japan. Members of fama Q also led numerous workshops to promote contemporary music performance at the Academies of Music in Prague and Bratislava, at the Palacký University in Olomouc and also on their tours abroad in Romania (conservatories in Cluj – Napoca, Iasi, Bucharest) and in Turkey (Afyonkarahisar). During the year of 2011 fama Q made their US debut (Philips Collection, Washington D.C.) and also toured Slovakia and Romania with the works of Janáček, Ligeti, Kurtág and Xenakis. In 2012 the quartet presented Marek Kopelent's works at the Prague Spring Festival, in 2013 appeared at ISCM World New Music Days 2013 being held in Bratislava, Košice and Vienna. 2014 fama Q was featured at festival Smetana Days Pilsen and Janáček's May Ostrava. 2015 saw fama Q perform at Ostrava Days - bienale of New Music, tribute concerts for the holocaust victim composers in Prague and Terezín and record works of the Canadian composer Rita Ueda ao. In 2016 invitations follow again from the prestigious Prague Spring Festival, to the project Performing the Jewish Archive (Prague), to Jerusalem, Israel, Toledo, Spain, Quiberon, France, and elsewhere.


Click here for Czech translation.
PROGRAM
Karel Husa

(*1921)
(video)
String Quartet no.4 "Poems"

(1989)
I. Bells,
II. Sunlight
,

III. Darkness
,
IV. Hope
,

V. Wild Birds
,
VI. Freedom
.
Daniel Matej

(*1963)
(video)
Nice

(2004/2011)
Martin Burlas

(*1955)
(video)
Panadol

for string quartet
and CD track (2006)
Georg Friedrich Haas

(*1953)
(video)
String Quartet no.5 (2007)
---

Festival Schedule



Wednesday

,

May 4: Echofluxx Ensemble (David Means, director);

Echofluxx 16 International Film Festival

with works by

Michael Crosswell, David Bird, William A. Brown, Joao Pedro Oliviera, Maxime Corbel-Perron, Maggi Payne, Mike Vernusky

and

Daniel Muldanado, Eric Souther, Panayiotis Kokoras, Christopher Coleman

and

Jamsen Law, Don Burton,

and

Paolo Germiniani. Presentations start on 3rd floor at 8p.



Thursday

,

May 5:

fama

Q;

Cafe Performance

Marek Hlaváč

(Prague); Presentations start on 3rd floor at 8p.



Friday

,

May 6:

Hong Kong New Music Ensemble

(China) Curated by Douglas Knehans (Cinncinnati) and Ablaze Records;

Cafe Performance

+x; Presentations start on 3rd floor at 8p, later in Cafe.



Saturday

,

May 7:

Mario Van Horrik and Petra Dubach

(Holland);

A Tibute to Paul Panhuysen

by the

Maciunas Ensemble

(Holland);

Cafe Performance

Jiří Suchánek

(Brno); Presentations start on 3rd floor at 8p.


---



Středa

,

4. Echofluxx Ensemble (David Means, director); Echofluxx 16 Mezinárodní filmový festival s prací Michael Crosswell, David Bird, William A. Brown, Joao Pedro Oliviera, Maxime Corbel-Perron, Maggi Payne, Mike Vernusky

and

Daniel Muldanado, Eric Souther, Panayiotis Kokoras, Christopher Coleman

and

Jamsen Law, Don Burton, a Paolo Germiniani. Začátek programu ve 20.00.



Čtvrtek

,

5.

fama

Q;

Cafe Performance

Marek Hlaváč

(Praha); Začátek programu ve 20.00.



Pátek

,

6.

Hong Kong New Music Ensemble

(Čína), Kurátoři

Douglas Knehans (Cinncinnati) a Ablaze Records;

Cafe Performance

+x; Začátek programu ve 20.00.



Sobota

,

7.

Mario Van Horrik a Petra Dubach

(Holandsko)

;

Pocta Paula Panhuysen strany Maciunas Ensemble

(Holandsko)

;

Cafe Performance

Jiří Suchánek

(Brno);

Začátek programu v 20.00.



Echofluxx 16 Description



Echofluxx 16

is a festival of new media, visual art, and experimental music produced by Efemera of Prague. This year it will again present international and Czech performers in a four-day festival at Paralelní Polis in Prague, May 4-7, 2016.



Echofluxx 16

je festival nových (zvukových a filmových) médií, vizuálního umění a experimentální hudby.

Festival se koná 4–7. kevetna 2016 v Praze v prostoru

Paralelní Polis

,

Praha.



Media Performances

curated by Dan Senn.

Cafe Performances

curated by Ladislav Zelezni (Prague).

Fixed Media Works

for experimental video and sound adjudicated by Echofluxx team.

; Live Streaming

of Performances hosted by David Means and Michael Karman.

Festival Concept
.


The echo of the fluxus movement resonates in this time—a ongoing hedge against the exclusivity of discipline-specific art and music.

Echofluxx 16

, a festival of new media, art and music, presents a spectrum of new art and music, from experimental film and poetry, to experimental music and art. It uses an organic curatorial method, with artists suggesting artists who would like to present with other artists, and so on. The festival is made possible with the assistance of volunteer help and in-kind support.

V současném umění silně rezonují ozvěny hnutí Fluxus a jeho neustálého zpochybňování výhradního postavení jednoznačně definovaných uměleckých a hudebních proudů.

Echofluxx 16

, festival nových médií, umění a hudby, představuje rozmanitou škálu nového umění a hudby, od experimentálního filmu přes poezii až po experimentální hudbu a výtvarné umění. Festival volí organickou kurátorskou metodu, kdy přizvaní umělci navrhují spolupráci s jinými umělci, kteří se chtějí představit spolu s dalšími umělci atd.


---

Live Broadcast with David Means and Michael Karman. Click on the photo below for pre-festival interviews and live festival broadcasts.

---
Festival Concept
The echo of the fluxus movement resonates in this time—a ongoing hedge against the exclusivity of discipline-specific art and music.

Echofluxx 16

, a festival of new media, art and music, presents a spectrum of new art and music, from experimental film and poetry, to experimental music and art. It uses an organic curatorial method, with artists suggesting artists who would like to present with other artists, and so on. The festival is made possible with the assistance of volunteer help and in-kind support.

V současném umění silně rezonují ozvěny hnutí Fluxus a jeho neustálého zpochybňování výhradního postavení jednoznačně definovaných uměleckých a hudebních proudů.

Echofluxx 16

, festival nových médií, umění a hudby, představuje rozmanitou škálu nového umění a hudby, od experimentálního filmu přes poezii až po experimentální hudbu a výtvarné umění. Festival volí organickou kurátorskou metodu, kdy přizvaní umělci navrhují spolupráci s jinými umělci, kteří se chtějí představit spolu s dalšími umělci atd.
Donate to Echofluxx 16
Echofluxx 16 is produced gratis by Efemera of Prague

,

a small group of dedicated artists. The festival is further made possible by inkind contributions of audio and video equipment from Prague artists and art organizations.

Click on the donate button below



---
DOCUMENTATION OF PAST
ECHOFLUXX FESTIVALS

(Click on artist for sound/video)
Phill Niblock
(New York-Ghent)
Bob Ostertag

(San Francisco)
Jaap Blonk

(Holland)
Joanna Hoffmann

(Berlin-Poznan)
David Danel

(Prague) performing works by
MAREK, CAGE, RNKA, FELDMAN and
RATAJ.
Jakub Rataj
(Prague)
with Helena Šťávová
(Prague) and Markéta Jandová (Prague).
Echofluxx Ensemble

performing the
vs. Intrepretation book (Agosto Foundation)
with David Means (Minneapolis), Oscar
Kubica (Prague), Michael Karman (Spain)
and Ladislav Železny (Prague).
See photo documentation of E15!
(Click on artist for sound/video)
Echofluxx Ensemble,
David Means, Director
Lucie Vítková, solo performance

John Keston
,
solo
performance
Lenka Kozderkov
á

,

work by Dan Senn

Lenka Kozderkov
á, work by
Lucie Vítková
Lenka and
Markéta 1 of 2, ensemble work

Lenka and
Markéta 2 of 2, ensemble work
Agnes Kutas 1 of 2,
solo
performance
Agnes Kutas 2 of 2,
solo
performance
Brigid Burke
,
solo
performance
Phaerentz
,
solo
performance
Dariusz Mazurowski
,
solo
performance
Michal Kindernay
,
solo
performance
Mark Zanter
,
solo
performance

Puppenklinik Installation,
Diana Winklerová

& Dan Senn (sound only)
Echofluxx 13 Video Documentation
(Click on artist for video)
Michal Cáb and Peter Gonda,
OEM,
Lucie Vtková and Jolana Havelková
, Martin Blažíček and Michal Žboříl
, Brigid Burke
, Martin Janíček and Bethany Lachtorin
,
Michael Schumacher
(intro)
,
Jamchestra,
Joanna Adamczewska,
Echofluxx Ensemble,
Michal Cimala
,
Frances Sander & Dima Borzon,
and Yves Degoyan
.
---
Echofluxx 12 Documentation

(Click on artist for video)
EVERYDAY NATURE
see gallery exhibition
.
Presentations by
Lukasz Szalankiewicz
;
Marcus Bergner
with
Marek Bouda;
Daniel Hanzlik and Pavel Mrkus;
Dan Senn

;
David Means

; Toine Horvers

with
Marcus Bergner,
Jose Pablo Estrada Torresca

and

Mojmir Pukl
;
Krzysztof Topolski,
Anja Kaufmann
and
Kate Lee
;

George Cremaschi
;
Michal Cimala
and
Aleš Zemene.
"Sound Room" Installation
see exhibition



early reflections

concert: compositions by

Michal Rataj

;
Andrea Sodomka

;
Markéta Mazourová

;
Sylva Smejkalová
with

Quido Sen
.

David Means' interviews
with
Krzysztof Topolski
and
Lukasz Szalankiewicz
on
USTREAM.



Festival Photos

see slides




---
Echofluxx 11 Documentation


(Click on artist for video)
Phill Niblock, Phill & Katherine Liberovskaya, Katherine & Al Margolis, Al Margolis, Michal Rataj, Michal and Ivan Boreš, Ivan Boreš, Peter Szely, Martin Janíček & Petr Ferenc, Martin Blažíček & Krzysztof Topolski, Anja Kaufmann & Frances Sander, George Cremaschi, Hana Železná, Petra Dubach & Mario van Horrik, Hearn Gadbois.


.
Echofluxx 11 site







---
FILM FESTIVAL ARTISTS
Christopher Coleman
(Hong Kong)
and
Jamsen Law
(Hong Kong)
.
Christopher is a composer, conductor, trombonist, is currently Composition Concentration Coordinator of the Hong Kong Baptist University Department of Music. He has also taught at the University of Chicago, DePaul University, Columbia College, and in the Interlochen Center for the Arts summer program. He earned his Ph. D. from the University of Chicago where he studied composition with Ralph Shapey and Shulamit Ran. While at the University of Pennsylvania, where he earned the M.A. in composition, he studied with George Crumb, George Rochberg, and Richard Wernick. While most of Coleman's works are scored for traditional forces, work at Hong Kong Baptist University has resulted in two large scale multimedia / improvisation pieces: September Variations and Prophecies for a New Millennium. He has received commissions from the Hong Kong Wind Philharmonia, the Hong Kong Bach Choir and Orchestra, the Hong Kong Composers' Guild, the DuPage Symphony Orchestra, the Chicago-area chapter of the American String Teachers' Association, and the University of Georgia Trombone Choir, among others. He has been awarded first place in the Percussive Arts Society Percussion Ensemble Composition Contest and the ASUC/SESAC Composition Contest. His music is published by Maecenas Music, Theodore Presser, Ensemble Publications, C. Alan Publications and Crown Music Press. As a trans-media artist interested in the creative process, Coleman has worked in sculpture and computer graphics, and performs stand-up comedy. He is a founding member of People's Liberation Improv, Hong Kong's first and only regularly performing comedy improv troupe. He can also be heard Sundays in October and November on RTHK Radio 4 when he programmes and presents the series Jazz, Blues, and Broadway.

Jamsen Law

(Hong Kong)

became involved in performance and video art during his graduate studies at Hong Kong University in the early 1990s through activities organized by local multidisciplinary arts groups 20 Beans + A Box, Zuni Icosahedron, and Videotage. These organizations not only promoted experimental art forms, but also advocated socially engaged art practices, much like art groups that flourished in Europe and North America in the 1980s, such as London's Black Audio Film Collectiveand New York's Paper Tiger Television. These alternative practices, often politically engaged, sought to bring a voice to pressing issues often left out of mainstream discourse—lesbian, gay, bisexual, and transgender (LGBT) issues, women's rights, and freedom of expression. His first videos were made in the mid-1990s, a period of heightened anxiety for Hong Kong's citizens in the run-up to the 1997 British handover of Hong Kong to China. However, the 1990s was also a historically important decade for the LGBT community in Hong Kong; homosexuality was decriminalized in 1991. Although art based on identity politics was already passé in the 1990s in places like New York—where the genre had peaked in the 1980s with artists such as Adrian Piper and Gregg Bordowitz examining race, class, and gender in their work—this self-reflective practice remained unchartered territory for Hong Kong's artists. Law's first videos, Every Time We Say Goodbye, Bathroom Fantasy (1997), I went up there and I saw someone bathing (1998), I think therefore I am confused (1998), and Re-presenting Queer Propaganda and Works (1998) were basic explorations of the medium—playing with light, color, and sound, and touching upon issues relevant to the artist, what he described as a "representation of indescribable desire."Although hardly a mid-career artist at age twenty-seven, his four-chapter video series Matching Four with Twelve, completed over a five-year period (2000-2005), coincided with his graduate studies in media artat IAMAS. At the time, he wrote to me, "Frankly, i don't mind to give up media art or even art in general after these two years in iamas." One critic described this highly abstract series, comprised of image manipulations with no real narrative structure, as filled with "long boring shots." But like a diary, haiku poem, or even Twitter entry, Matching was perhaps never intended for mass consumption. In fact, diaries tend to be intensely boring for anyone aside from the diarist or those intimately involved in the life of the writer.



William A. Brown

is an independent filmmaker and visual artist whose award winning work has been shown at festivals throughout the world. As President of Atlanta Video, Mr. Brown has produced literally thousands of media projects since the company's inception in 1976. His documentaries have aired on PBS and The Arts & Entertainment Network. Mr. Brown also writes feature films and film articles. He recently retired from the Film & Media Studies Department at Emory University. Mr. Brown has written, produced, and directed projects for IBM, the Coca-Cola Company, and the High Museum of Art. His art works are in the permanent collection of the High Museum of Art and have been shown at the Corcoran Museum of Art. In his spare time Mr. Brown can be found filming architectural oddities and ritual crowd activities anywhere from Las Vegas to Angkor Wat.


The Hong Kong New Music Ensemble
The

Hong Kong New Music Ensemble (HKNME

) is a culturally transformative ensemble which was founded in 2008. It is widely praised for its innovative programming, the ensemble productions include concerts, outdoor performances,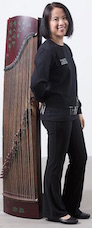 educational outreach, and interdisciplinary collaborations with artists from diffe
rent fields.
The HKNME consists of over fifteen members who perform in various
combinations in a
variety of settings. The HKNME performs difficult repert
oire by
composers such as Fausto Romitelli, John Luther Adams, György Ligeti, L
uciano Berio, Steve Reich and Iannis Xenakis and has collaborated internationally with artists such as c
onductors Manuel Nawri, Ulrich Pöhl and Lio Kuok-man; soloists Jean Geoffroy
(percussion)
and Tian Hao-jiang (bass), among others
;
and has collaborated with organisations including Zuni Ico
sahedron,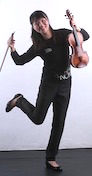 Hong Kong Chinese Orchestra, Gu
a
ngdo
ng Modern Dance Company, Alice Theatre Laboratory, GRAME (France), West
Kowlo
on Cultural District Authority, and the
H
ong Kong Arts Centre. The ensemble has been featured at the New Vision Arts Festival, Freespace Fest, Le French May and
Hong Kong Arts Festival. Besides its artistic activities in Hong K
ong, the ensemble has toured Australia,
Cambodia, Greater Chin
a, Malaysia
,
Taiwan and Singapore. A regular collaborator with music depart
m
ents
of

a
ll tertiary institutions in Hong Kong, the HKNME b
ecame the Resident Company at the Hong Kong Academy for
Performing Arts in 2014. It has been a one-year-grante
e
of the Hong Kong Arts Development Council since 2012. In 2013 and 2015, the organisation received project
grants under the Arts Capacity Development Funding
Scheme of the Hom
e Affairs Bureau to pioneer "The Modern Academy", the foremost training institute for contemporary classical music in Asia.

For Echofluxx

the e
nsemble will be comprised of five performers including Chiu Chan Ching (guzheng, top left photo), Euna Kim (violin, top right), Selena Choi (violin. lower left), William Lane (viola, lower right), and Zhu Mu (cello, middle right).
---

Under the direction of
David Means
(left)
(Minneapolis), the Echofluxx Ensemble will present
Apropos of Not

That - A
Pop-up Performance Opera
by members
Oskar Kubica
(drums, Prague),

Tereza
Kučerová

(tableau, Prague),
Michael Karman
(text, touch pad, Spain),

Mary
Garvie
(voice, Minneapolis),

Jon Spayde
(narration, St.
Paul, left),

Michael Croswell

(above, righ)
(guitar, video*,
St. Paul

, see video above

) and David Means (turntable, scores, photography). Based on Michael Karman's novel, performers relate to each
other through a highly controlled yet stubbornly independent improvisation
al system of shifting textures and narratives describing a day in the lives of two women who
journey into a l
abyrinth of
language itself.

---
Austin Leung

(Hong Kong) "I forgot how many times I was told that I can either be a contemporary composer or a commercial composer. I however love both music equally. This piece is too tonal to be a contemporary piece, but is too contemporary to be commercial music. I dont know how to classify it, but do I really have to? It is a piece that I really love. What other matters?"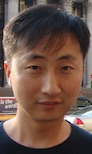 Joungmin Lee

(Korea) is a composer, choral conductor and digital music artist. Also he is an award-winning composer of 2016 Hong Kong New Music Ensemble Prague Concert and Recording for his string quartet 'Vexatious' as well as the 2016 Valencia International Performance Academy & Festival. ABLAZE Records said "The piece has tremendous color, beautiful textures, evocative passages and most of all uses the ensemble brilliantly." He is interested in instrumental as well as electro-acoustic music with an interdisciplinary approach. He attempts to find innovative sound both in instrumental and digital worlds to manipulate listener's perception floating between imagination and reality.
Mei-Fang Lin

(Taiwan-USA)is currently a visiting professor in composition at the University of Illinois at Urbana - Champaign. She received her doctoral degree from the University of California at Berkeley in 2007 where she had studied with Edmund Campion. She was awarded a Frank Huntington Beebe Fund from Boston and the George Ladd Paris Prize from UC Berkeley to study with composer Philippe Leroux in Paris during 2002-2005. She was also selected by the IRCAM reading panel to pursue the one-year computer music course "Cursus de Composition" at IRCAM in Paris during 2003-2004.
Major awards include those from the Seoul International Competition for Composers, Bourges Competition (France), American Music Center, Look & Listen Festival Prize (U.S.), Pierre Schaeffer Competition (Italy), SCI/ASCAP Student Commission Competition in (U.S.), Luigi Russolo Competition (Italy), Prix SCRIME (France), National Association of Composers, (U.S.), 21st Century Piano Commission Competition (U.S.), and the Music Taipei Composition Competition.
Rodney Wascka II

(USA), composer, is best known for his algorithmic compositions, his unusual operas, and theater pieces. An expert in computer music, his works often include electronic computer music or other media: visuals, theater, or poetry. He also frequently composes music for traditional ensembles. His music has been performed throughout North America and Europe, in Japan, China, Argentina, Columbia, Puerto Rico, Jamaica, Israel, South Africa, and elsewhere. Important festivals and concert halls where his works have been performed include the Sound Ways Festival in Russia, numerous instances of the International Computer Music Conference, the Society for Electro-Acoustic Music in the US festival, the World Saxophone Congress in Montreal, Merkin Concert Hall in New York, the Sheremetev Palace, Glinka Hall, and the Composers' Center in St. Petersburg, Russia, the International Review of Composers in Belgrade, the Purcell Room in London, the Museo Reina Sofia in Madrid, and many others. Waschka is Professor of Arts Studies at North Carolina State University where he directs the Arts Studies Program and the Arts NOW Series.





Sarah Westwood

(UK) writes acoustic and electronic music, often found in the world of music for dance, visual arts + AV. Her sounds are often formed from meditated concepts,

mythologies and organic materials. She is drawn towards music for dance, a collaborating artist with Eleven Farrer House and a composer at the first Choreographer and Composers Lab at Phoenix Dance Theatre, Leeds.She has previously written film music for 'awarding winning' Adda Films and Malik Roberts (BBC Fresh). Her work has been performed in Europe and America, including at South Bank Centre, Wales Millennium Centre, Phoenix Dance Theatre, The ATRiuM, John Pritchard Hall Bangor University, Tide Mills, Laban and at Manchester Film Festival, Zoom Film Festival, Cardiff Mini Film Festival, Ffresh Film Awards... Her music has been played by ensembles including players of BBC National Orchestra of Wales,. Bangor New Music Ensemble, Onix Ensemble (Mexico), amongst others.




Stephen Yip

(Hong Kong-USA) was
born in Hong Kong and now living in U.S.A. He received his doctor of musical arts (D.M.A.) at Rice University and bachelor of fine arts (B.F.A.) at the Hong Kong Academy for Performing Arts. His mentors include Wing-fai Law, Clarence Mak, Arthur Gottschalk and Ellsworth Milburn. He has attended major music festivals include: Wellesley Composers Conference, Aspen Music Festival, Asian Composers' League, ISCM World Music Days, Music X, June in Buffalo, IMPULS Ensemble Akademie, California E.A.R. Unit Composer Seminar, the 13th International Summer Program, Czech Republic, International Composers' Workshop, Luxembourg, the International Summer Course for New Music, Darmstadt, Germany and residencies include: Atlantic Center for the Arts, Florida, Kimmel Harding Nelson Center for the Arts, Nebraska, Virginia Center for the Creative Arts , Yaddo Colony, NY and MacDowell Colony, NH.




Banner image by

Brigid Burke

(Melbourne, Australia).

---



Festival Organizers



Dan Senn (Wisconsin-Prague) - artistic director;

Terezie Honsová (Prague) - site coordinator;

Douglas Knehans

(Cinncinnati) - Hong Kong New Music Ensemble coordinator;

Ladislav Železný (Prague) - curator of Cafe performances; Tereza Kučerová (Prague) - translation; Echofluxx Ensemble; Petra Vlachynská (Prague) - adjudicaion, equipment transport; David Means (USA) - technical, director Echofluxx Ensemble;

Caroline Senn (Wisconsin-Prague) - adjudication; Oskar Kubica (Prague) - gear procurement,

Echofluxx Ensemble;

Jiří Sovinec - equipment transport;

and Michael Karman (Spain) - adjudication, UStream, Echofluxx Ensemble.



With Special Thanks to...





Jiří Sovinec & Petra Vlachynská

equipment transportation.




---

Douglas Knehans (USA-Australia) received his initial music education at the Canberra School of Music (Australian National University) where he graduated with a high distinction in music composition. In 1990 he received scholarships and awards from Queens College, City University of New York where he gained his M.A. in composition with Thea Musgrave. Upon graduation he received the first Luigi Dallapiccola Composition Award (1991) for outstanding achievement in music composition. After graduating from Queens College, Knehans entered the Doctoral program at Yale University where he studied with Jacob Druckman, Lukas Foss, Martin Bresnick and Jonathan Berger. Receiving his doctorate in 1996, he earned the Woods Chandler Memorial Prize for best composition in a larger form. After Yale, Knehans was appointed to the University of Alabama School of Music as Chair of Composition, Theory and Electronic Music and Director of the Southern Center for Research into ElectroAcoustic Music. Between 2000-2006 he was the Tasmanian State Chair, Federal Board member, Chair, and Executive Director (Syllabus Development) Music Craft of the Australian Music Examinations Board. In 2005 he created the Australian International Symphony Orchestra Institute and from 2005-2008 he was the Artistic and Executive Director of that Institute. He was Professor of Music and Director of the University of Tasmania Conservatorium of Music between 2000-2008, and Dean of the College-Conservatory of Music (CCM) at the University of Cincinnati from 2008-2010. He is currently the Norman Dinerstein Professor of Composition Scholar at CCM. He is also Director and Producer of ABLAZE Records, an Australian-American Company specializing in supporting new music of living composers.

ABLAZE Records pursues this mission with a robust series of recordings of Electronic and Computer music; New Orchestral Recordings with the brilliant Czech Orchestra Filharmonie Brno (the Brno Philharmonic Orchestra) and new music specialist conductor Mikel Toms

; as well as a new choral series of recordings using the First Readings Choir of Minneapolis under the director of J. David Moore, with discs distributed worldwide on NAXOS Music Library, Albany Music Distributors and others. Knehans' music is available on New World Records, ERM Media, Crystal Records, Move Records and Ablaze Records. He self-publishes his music under the Armadillo Edition imprint.



Ladislav Železný

(Prague)

studied at the School of Applied Arts in Bechyně and Fine Arts in Brno where he graduated in 2004 in the studio of M-V-P (multimedia-video-performance). He works for the Czech Radio as a sound and music engineer in the realization of radio dramas, documentaries and special projects. Since 2008 he collaborates on the project rAdioCUSTICA intermediate (radioart.cz). In 2011, he became one of the ten finalists of the project "Europe - a sound panorama" at ZKM. Created sound and music compositions for short films (Monoskop No.3 - 2011, Monkey King - 2010), radio plays (Enigma Emmy Goring - 2010 Pro patria mori - 2014 Love and Money - 2015). During the years 2006-11 musically contributed to projects for non-verbal theater and contemporary dance (Extraction, Vrstvení, Iné ráno, Intenzita neviditelného). Creates sound installations (Hlavou proti zdi - 2012, Tabula rasa - 2013), radiophonic and acousmatic composition (Before During After - 2007, ŠUM - 2012, 220 sound layers in five minutes - 2011, ZERO - 2014). Occasionally performs common audio performance (Skupina C, Skupina B, Naru Tigama, OEM arts).

David Means (USA) graphic scores, installations and performance systems have been exhibited and presented by the Walker Art Center, IRCAM, Documenta IX, the Xi An Conservatory of Music (China), Het Stroomhuis (Holland), Logos Foundation (Belgium) and the Arts Council of Great Britain. He is currently an Associate Professor of Media and Fine Arts and producer of the Strange Attractors Festival of Experimental Intermedia Art at Metropolitan State University. David contributed greatly to Echofluxx 12 as a technician, performer, U-Stream interviewer and video-photo documentarian for Echofluxx 12-15 See David's site here.



Michael Karman

(Spain) is the publisher, editor, and chief writer of

Asymmetry Music Magazine

, an online magazine that is devoted to contemporary music. Karman lives in Europe and Oregon after many years living in the Los Angeles area. He trained as a musician, is a novelist, and has taught writing for many years at university. Here is a recent interview of Michael in a Portland publication.




Dan Senn

(Prague-Wisconsin)

is an intermedia artist working in music composition, kinetic sound sculpture, experimental and documentary film. He has been a professor of music and art in the United States and Australia. Dan travels internationally as a lecturer, performer and installation artist living in Prague, The Czech Republic, where he directs the Echofluxx festivals, and Watertown, Wisconsin, the

USA, with his partner-collaborator, Caroline Senn. He studied music and art at the University of Wisconsin at La Crosse with Truman Daniel Hayes and Leonard Stach, and at the University of Illinois, Urbana, with Salvatore Martirano, Ben Johnston and Herbert Brun. His music is published by Smith Publications of Baltimore. His work for "Any Three Treble Instruments In the Same Key," called "Rivus," was released in 2015 by Ravello Records, along with works by Scotto and Cage and performed by the McCormick Percussion Group. Dan founded Newsense-Intermedium of Tacoma, Washington, and cofounded Roulette Intermedium of New York City. He is the artistic director of Echofluxx.

FILM FESTIVAL ARTISTS

Paolo Geminiani

(Italy)

studied composition, electronic music, choral music and choral conducting, and band instrumentation at the conservatoires of Bologna and Modena. Subsequently he advanced into the Master program at Verona Opera Academy with Azio Corghi, Triennal course degree at ICONS Academy Novara with Alessandro Solbiati, and other courses and masterclasses with Franco Donatoni, Adriano Guarnieri, Alvise Vidolin, Gyorgy Ligeti, Gerard Grisey, Goffredo Petrassi, Niccolň Castiglioni. He has won and received commendations at various competitions including: Gustav Mahler Klagenfurt, Counterpoint-Italy International, SuonoSonda, Daegu Contemporary Music Orchestra, Valentino Bucchi Prize, Pierre Schaeffer, Egidio Carella, Reggello International Festival, and many others. His works performed in Italy, Slovenia, UK, South Corea, Japan, USA, Argentina, Brazil, Canada. His scores are published in Italy by Ut Orpheus, Sconfinarte, Bčrben, MAP Editions, Agenda, and TEM-Taukay; and CD's are available on RMN Label, SuonoSonda, Soundiff, Accademia Pescarese, MobyDick. www.paologeminiani.it.

Donato D'Antonio

originated the video.

Mirco Denicolň

says "I was born in Cattolica (RN) - Italy in 1962. I learned ceramics and graduated in 1981, at the Art Institute of Pesaro and in 1983 and at the Art Institute of Faenza. I started to exhibit my artistic works in 1987. I worked until 2003 in the ceramic industry as a researcher and a developer. I have been working since 1999 as professor of Laboratory at the ISIA (Institute of Industrial Design) in Faenza. Since 2008 I teach drawing at the municipal school of Fine Arts "Tommaso Minardi" of Faenza. In recent years I translate my ceramic works into video animation and art books. My work are in public and private collections and museums in Italy and abroad."


---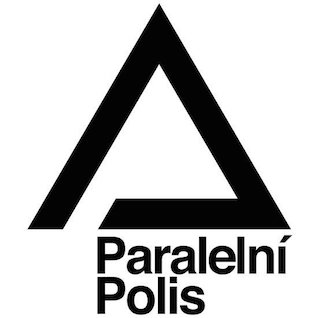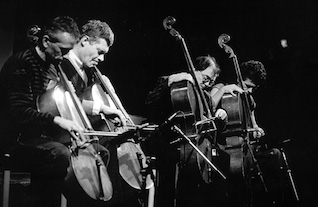 Jan van Riet, Leon van Noorden, and Mario van Horrik.

T
ribute to the Sound Art of Paul Panhusyen featuring the Maciunas Ensemble
(Eindhoven, Holland)
The Maciunas Ensemble was founded in 1968 by

Paul Panhuysen

, Remko Scha and Jan van Riet. The ensemble has existed ever since, although membership has changed and the way they create their music has seen some shifts. From the beginning the intention was to realize a piece by Fluxus initiator George Maciunas, Music for Everyman: A Score for Dead and Living, Human, Animal and Inanimate Composers. They interpreted this as allowing them boundless freedom in the sounds they produced. They decided to record each session, listen to the recording afterwards and discuss it. Sessions that they didn't approve of, were erased. The ensemble did not rehearse in the sense that other music groups do: repeating, fine-tuning and arranging
or orchestrating preconceived material. The musicians improvised more or less freely on instruments that were at hand. To Paul's view their method of music making strongly resembled traditional music. In an interview in August 2012 he said: "The Maciunas Ensemble challenged the exclusiveness of academic music, which is based on rules governing tuning, structure and skill. Laying dow
n such rules for musicians limits the individual freedom. It shuts
people out. Making music should be about what you can hear for yourself, and about what you want: only in that way you can develop freely. We did that by recording and evaluating our sessions. We were able to develop as a group by the music that we created ourselves, by listening to recordings of what we had created. Quite similar to how oral tradition works. You might say that we made folk music." This album testifies to the ways the Maciunas Ensemble challenged the academic rules. Both pieces start out as an apparent free-for-all, growing into coherent structures as the performers coordinate their activities, while each continues to blaze his own trail with dogged persistence. As evidenced on this album the music that results from this approach can be quite different, even when pieces were recorded on the same day - as was the case with the two tracks on this album. This music is literally polyphonic - a composition of multiple voices ('composition' to be understood both as a whole consisting of various ingredients, and as a piece of music). Structure is not achieved through t
he application of techniques taught at conservatories. The members of the ensemble do not engage in virtuoso playing. Although each may go down his individual path, no one attempts to outdo the others in exuberant soloing. Their approach to improvisation bears none of the hallmarks of jazz. It is a group effort. They operate as a band in the anthropological sense: a small, mobile, and fluid social formation without clear-cut leadership. This is what distinguishes the Maciunas Ensemble from regular music groups. The members of the Maciunas Ensemble do create music, but in the way they work they are also an experiment in social behavior. Both aims are equally important. Listening on these two levels at once makes for a fascinating experience. Music manifests itself as a result of spontaneous communication. (R. van Peer)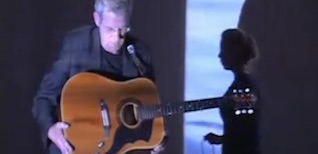 Mario van Horrik and Petra Dubach
Mario van Horrik and Petra Dubach
(Eindhoven, The Netherlands)
are soundartists. Their work includes concerts, installations, performances, works in progress, media translations, video's and objects. The main focus of their work is the combination of movement and sound. In their opinion both media are similar: if there is no movement, there is no sound. Petra and Mario make unique, uncomparable works with the simplest possible means: copper plates, aluminium bars, string, fans, water, air, paper, etc. They have presented installations worldwide at Ujazdowski Castle, Warsaw; Art in General, New York City; Synagogue od Palmovka, Prague; Cinema Rex, Belgrade; Galerie Artetage, Vladivostok; Museum School of Fine Arts, Boston; Amber festival, Istanbul. Concerts amongst others in: Experimental Intermedia, New York; Stedelijk Museum, Amsterdam; Interzone Festival, Novi Sad; Ringring festval, Belgrade; BOA, Lucerne; LOGOS, Ghent; Festival Experimental Music, Munich; Audio Art Festival, Krakow. Performances: Castle of Imagination, Usztka, Poland; PAF, Cleveland; Cuba Culture, Muenster; Interaczje, Piotrkow Trybunalski, Poland; Spritzenhaus, Hamburg. Petra and Mario form part of the multi-media group Antarctica, together with architect and lightartist Tom Veeger and media-artist Mark Dijkstra. Also they are closely related to Paul and Helene Panhuijsen and the former Apollohuis. Mario is a member of The Maciunas Ensemble, the experimental music group with Jan van Riet and
Leon van Noorden.
Petra and Mario released 2 audio-cd's: The Adventures of Toon Scales in 2002, originally by Bake Records, but sold out for quite some time; and Live in Prague, 2004.
---
Marek Hlaváč

(Prague)

studied at Academy of Fine Arts, Prague, Intermedia III. In his performances, from
installation to site-specific work, communitive performing, rehersal, improvisation to expansive walks outside of the gallery, he
openly challenges the audience towards active participation with its surroundings. His aim is to engage public to musical "presets" in form of various special instruments and spatial and communicational configurations.

VIMEO





Tomáš Mika

(Prague) is a guitar- banjoist, improviser and composer from Prague. After studies in musicology at Charles University, he transferred to the Higher Education Section of the Jaroslav Ježek Conservatory, where he graduated in Jazz Guitar. He is currently active in the ensemble Stratocluster, which works with intermedia and interactive graphic scores, among others. Since 2014, he has performed as an electric guitarist with the BERG Orchestra, which focuses on contemporary music. In the year, he co-founded +x with Ian Mikyska. He is the leader of TokDat, a trio combining elements of prog rock, minimalism, modern jazz and improvisation. Apart from contemporary music and free improvisation, he is also active in gypsy-jazz (the quartet Futur Swing), folk music, particularly Bulgarian and Norwegian, which he arranges and performs in a duo with accordionist Kieren Alexander, and the post- underground group Tajná chut, which fuses theatriality, free improvisation and popular culture with the Czech underground aesthetic. In 2015, he founded – with Jan Faix – the live-processing free-folk duo Sova Smrti ('The Owl of Death'). He has collaborated with, among others, the Petr Kalfus Quartet, the Tomáš Hobzek Quartet, the Václav Kozel Nonet, Libor Šmoldads, Lucie Páchová, Milan Svoboda, Tristram Trio, Kirill Yakovlev, Lukas Ligeti, Samuel Vriesen.

BANDCAMP





The duo +x (plus ex)

consists of Ian Mikyska and Tomáš Mika, guitar-banjists, composers, performers and occasional poets, who wanted to play gigs without having to drag equipment around. This didn't work out in the end, as they perform with toys, balloons, masks and costumes, among other implements. Their work is positioned on the edge of performative, sonic and conceptual poetry, but humour and the absurd are never far off, and all of their pieces are bound by a spirit of friendship.

Ian Mikyska (Prague-London) is a composer divides his time between Prague and London. He is a student of James Weeks at the Guildhall School of Music & Drama and
spent 2014-15 at a residency at the Centre for Audiovisual Studies at the Film Academy in Prague. His music has been performed by musicians and ensembles such as the Anhaltische Philharmonie Dessau, Ostravská banda, the VENI Ensemble, members of the Prague Philharmonic, Keiko Shichijo, Annette Schönmüller, Hayk Melikian or Lucie Vítková. His work is usually based in sound, but it tends to approach it at the edges, through text, theatre or multimedia. It has been performed in the Czech Republic, the UK, Germany, Spain, Armenia and elsewhere, and his texts have been published in Psí víno, Host, A2, HISvoice, The Word Addict, The Goose – Journal for Culture, the Arts and Environment in Canad
a, Slovo (University College London) and the anthology Abolishing Prague (Charles University Press). His first collection of poems is set to be published in Prague in October 2016.
He often works collaboratively in theatre, dance or performance and video art (Jan Pfeiffer, Markéta Magidová, Monika Cástková, Fanette Pons, Althea Thauberger). He co-founded the Prague-based ensemble Stratocluster, focusing on multimedia improvisation, which has performed music by Ian, as well as world premieres of works by Samuel Vriezen and Lucie Vítková. He is also active as a translator of Czech prose and poetry into English.
J

iří Suchánek
(Brno) is Czech sound and media artist, musician and multimedia experimentalist. He studied ateli
er video-multimedia-performance (Keiko Sei, Peter Ronai) at Faculty of Fine Arts at Brno University of Technology (1999-2005). During studies he explored relationship between sound and image in the context of time (and later space). Few works were dedicated to developing own music MIDI interfaces. In 2005 he established audiovisual performance group "Mateřídouška" with which he performed on festivals around Eastern Europe (Unsound on Tour, Rokolektive, Stimul, Exposition of New Music etc.). He attended several workshops and study fellowships – for example CTM MusicMakersHacklab 2014, Timet (Giardino Sonoro de la Limonaia), STEIM (Orientation workshop). Since 2008 Jiří Suchánek is focused in building permanent audio-light installations that are usually interactive and placed in a natural or public spaces (like a cave, astronomic observatory, bridge…). His artistic approach is synthetic. In his works he is connecting sound, light, sculptural objects, electronics + code and carefully chosen spaces. Through his work he explores relationship between nature, technology and durability of the electronic media in a wild climatic situations. Jiří Suchánek is searching for alternative situations and places for presentation of media art. The center of his works is sound. Since 2009 Jiří works as an assistant at Department of Audiovisual Technology at Faculty of Fine Arts Brno University of Technology where he teaches AudioTechnology and History of SoundArt. Now he is Ph.D. candidate at Janáček Academy of Music and Performing Arts where he is working on thesis "Sonification and Aesthetics of Data-mapping" and teaches "Physical computing – interactive systems."

LISTEN
FILM FESTIVAL ARTISTS





David Bird

(New York City)

is a composer and producer from Laguna Beach, California. He is a graduate of the Oberlin Conservatory of Music and currently studies composition at Columbia University. His work frequently employs the use of live electronics with aims to strengthen the relationships between acoustic and electronic instruments. His music has been a "Staff Pick" on Vimeo and featured on their homepage, as well as publications such as The Atlantic and The Plain Dealer. A review from Pitchfork's Altered Zones has described his expansive sound as, "vibrant, shirt-stain- ing, color squirting... amidst swirling layers of white noise and choir... I do believe a lie-down is in order." His work has been performed internationally, at venues and festivals such as the MATA festival in New York City; the Wien Modern Festival in Vienna, Austria; the SPOR festival in Aarhus, Denmark; the IRCAM Manifeste Festival in Paris, France; the Festival Mixtur in Barcelona, Spain; the Kennedy Center in Washington, D.C.; the Bodo Sinfonieta in Bodo, Norway; the Percussive Arts Society International Convention (PASIC) in Indianapolis, Indiana; and the SEAMUS electroacoustic music festival in Appleton, Wisconsin.
Joao Pedro Oliveira

(Prortugal)

completed a PhD in Music at the University of New York at Stony Brook. His music includes one chamber opera, several orchestral compositions, a Requiem, 3 string quartets, chamber music, solo instrumental music, electroacoustic music and experimental video. He has received numerous prizes and awards, including three Prizes at Bourges Electroacoustic Music Competition, the prestigious Magisterium Prize in the same competition, the Giga-Hertz Special Award, 1st Prize in Metamorphoses competition, 1st Prize in Yamaha-Visiones Sonoras Competition, 1st Prize in Musica Nova competition, etc.. He is Professor at Federal University of Minas Gerais (Brazil) and Aveiro University (Portugal). He published several articles in journals, and has written a book about analysis and 20th century music theory.
Mark Franz

(Ohio)

is a designer, artist, and educator whose exhibitions and primary research projects involve the creation of interactive installations that reflect on issues of violence, dislocation, and other social constructions important in contemporary cultures. Recently this work has been exhibited as part of the PhxArtcade in conjunction with The Smithsonian American Art Museum's Art of Video Games presented by the Phoenix Art Museum in Phoenix, AZ and at the Leuphana Centre for Digital Cultures in Luneburg, Germany. Franz's secondary research involves creating custom hardware and software for audiovisual performance and installation, and references the art historical current of visual music commonly discussed as part of animation history. This work has been exhibited at Pixelerations at the Rhode Island School of Design and Brown University in Providence, RI, the Gene Siskel Film Center in Chicago, IL and the Currents International New Media Festival in Santa Fe, NM. As the Chair of the Graphic Design area, in the School of Art + Design at Ohio University, Franz teaches courses in Graphic Design, New Media, Visual Systems, and Interaction Design.
Maxime Corbeil-Perron
(Canada)

is a composer and multidisciplinary artist whose work has been noticed by many international competitions and events. His work has been qualified as an «infinite cosmos» (Etherreal, 2015), «pushing the boundaries of abstraction» (Silence and Sound, 2015) and «defying any explication or labelling» (La Folia, UK, 2015).

He composes electroacoustic and mixed-media music, with a compositional approach that is inspired by electronic music, experimental cinema and visual arts – in a constant state of research to create an abstract, dynamic, spiritual and poetic sound-world.

He is also composes and produces electronic music ( D R E S D E N, Le Poisson d'argent, Recepteurz), he is part of the drone/noise duo Political Ritual and the instrumental post-rock duo Le Pélican Noir. Also a video-artist, his audio-visual works have been shown in a many prestigious international film festivals, and he recently premiered an interactive installation.

He collaborates with many local musicans (Félix-Antoine Morin, Émilie Girard-Charest, Ida Toninato, Sylvain Gagné, Marie-Chantal Leclair). He wrote a mixed-media piece for Siren Organ (an invented instrument by Jean-François Laporte, commissioned by Totem Contemporain) and recently completed a piece for tape and cello (commissioned by Émilie Girard-Charest, the piece will be available on the Ambiances Magnétiques imprint in 2016).

His work has received national and international prizes, among them the first prize from the Jeu de temps/Times Play competition (Canada, 2011), awarded by the Canadian Electroacoustic Community. A special mention and the Senato della repubblica Italiana medal from the Cittŕ di Udine international composition competition (Italy, 2012) and a second place (Motus prize) from the Destellos Foundation international composition competition (Argentina, 2012). The Musicworks magazine awarded two of his video workGhostly, and his mix-media piece Vertiges in ex-aequo in 2013 in the Musicworks international electronic composition contest (Canada, 2013).

Since 2012, his work has been presented in over 40 international events worldwide and has been distributed by Vox Novus, Taukay Musicali, CEC Cache, Hardcore Jewellery, Ambiances Magnétiques, Speaker Footage and Kohlenstoff Records.

He is founding member of the Kohlenstoff artist collective and co-director of the digital record label Kohlensotff Records, which focuses on the broadcast and distribution of new, unusual and experimental music.




Maggi Payne's
(Mills College)

electroacoustic works often incorporate visuals, including dancers outfitted with electroluminescent wire and videos she creates using images ranging from nature to the abstract. She composes music for dance and video, and is a video artist, photographer, recording engineer, flutist, and Co-Director of the Center for Contemporary Music at Mills College, in the San Francisco Bay Area, where she teaches composition, electronic music, and recording engineering. Her works have been presented in the Americas, Europe, Japan, and Australasia. She received Composer's Grants and an Interdisciplinary Arts Grant from the National Endowment for the Arts; video grants from the Mellon Foundation and the Western States Regional Media Arts Fellowships Program; and honorary mentions from Concours International de Musique et d'Art Sonore Electroacoustiques de Bourges and Prix Ars Electronica. Her works appear on Innova, Lovely Music, Starkland, Asphodel, New World (CRI), Root Strata, Centaur, Ubuibi, MMC, Digital Narcis, Music and Arts, Frog Peak, and/OAR, Capstone, and Mills College labels.
Mike Vanusky
(Austin)

and

Daniel Muldanado

(Austin)

Mike Vernusky

is an
Austin-based composer
writes music for concert, theatre, dance, and film, primarily using electronic sound and live performance.His works have been called 'brash' by the New York Times, 'isolationist' by The Wire, 'especially otherworldly' by New Music USA, 'strange & intriguing' by Exclaim.ca and 'étonnante' by the French publication EtherReal.
Mike Vernusky's music has been heard around the world including performances at Festival International de Música Experimental Săo Paulo, MATA, Marrakech Biennale, Autumn Contemporary Music Festival of Bucharest, Mise-En Festival NYC, Los Angeles Sonic Odyssey, Visiones Sonoras Mexico City & Morelia, Wired for Sound in Cambridge, Le Escucha Errante Bilbao, Art Basel Miami, GMEM Marseille, ICMC Barcelona, Milwaukee Metalfest, among others. As a film composer, Vernusky has worked with numerous filmmakers and moving image artists. These works have been performed at festivals such as Tribeca International Film Festival, SXSW, Rotterdam IFF, Experimental Intermedia, Voices from the Waters Bangalore, Ann Arbor Film Festival, Berlin Film Festival, FLEXFest Gainesville, FILE Festival Brazil, Darklight Film Festival Dublin, Brno 16 CZ, and Seoul Net & Film Festival. Mike Vernusky's recorded music is published on BBC Audio, MIT Press, The Wire, and Quiet Design. In 2006, Vernusky co-founded the label Quiet Design, which features his own projects as well as those of others working at the outer fringes of new music. This label, with its 24th release and co-curated with sound artist Cory Allen, has gone on to become a full-fledged portal of audio art and information.

Daniel Muldanado

is an award winning filmmaker who through the early exploration of identity,found his reality through the lenses of contrast. Since then he's found success in the many genres he's crossed. While graduating from the School Of Visual Arts, Daniel worked for acclaimed executive producer Ben Barenholtz (BARTON FINK)during which he wrote/produced and directed several diversified short films, including BUTTERCUP, which toured German movie theatres in 1997 & 1998 as part of the "BLUE HEARTS OF N.Y." traveling festival of short films (distributed by MOP Distribution, Germany). Daniel's next film, (the B/W) KINGS, featured in THE FACE magazine, had the honor of closing the 1997 Hero Festival in New Zealand. His follow up, PACIFIER (Producer), praised by Chris Gore, played to sold out festival screenings including Slamdance, while winning the GRAND JURY AWARD at the Micro-Cine Fest 2000. (distributed on the Xperimental Eros compilation by Other Cinema Distribution). In 2001, Daniel completed the award winning 10,082,an experimental documentary as well as STICKERS-2004 which picked up an award for BEST CINEMATOGRAPHY and was favorably featured on IFC News. Along with commissioned & award winning experimental horror films ( EPISODE 22 & EPISODE 21), Daniel finished the festival circuit in 2011 showcasing LALO, which had received the BEST SHORT FILM award from HBO/NY Latino International Film Festival (2009) and went on to be licensed & nationally broadcast on the SiTV/Nuvo Tv cable network. Currently, Daniel is in production on his first feature film, titled, H.O.M.E. starring Imagen Award winner, Jeremy Ray Valdez and two time Mexican Ariel award winner, Jesus Ochoa.
Eric Souther
(Indiana)

is a video and new media artist who creates explores the ritualistic spaces of media and develops interactive systems for real-time manipulation of time-based media. His work has been featured nationally and internationally at venues such as the Museum of Art and Design, NYC, Everson Museum of Art, Syracuse, NY and the ART DATA LAB, Beijing. His work has been screened in The Outcasting: Fourth Wall Festival, Grangetown, UK, Cronosfera Festival, Alessandria, Italy, and the Galerija 12 New Media Hub, Belgrade, Serbia. He received his M.F.A. in Electronic Integrated Arts from Alfred University. Currently he is an Assistant Professor of New Media at Indiana University South Bend.
Panagiotis Kokoras
(Athens)

is an internationally award-winning composer and computer music innovator. He is an Associate Professor in composition at the University of North Texas. Born in Greece, he studied classical guitar and composition in Athens, Greece and York, England; he taught for many years at Aristotle University in Thessaloniki. Kokoras's sound compositions use timbre as the main element of form. His concept of "holophony" describes his goal that each independent sound (phonos), contributes equally into the synthesis of the total (holos). In both instrumental and electroacoustic writing, his music calls upon a "virtuosity of sound," emphasizing the precise production of variable sound possibilities and the correct distinction between one timbre and another to convey the musical ideas and structure of the piece. His compositional output is also informed by musical research in Music Information Retrieval compositional strategies, Extended techniques, Tactile sound, Detuned Systems, Robotics, Sound and Consciousness.
Don Burton
(New Bedford, MA) is a filmmaker and artist specializing in new media and video driven campaigns, documentary and narrative films. Home Entertainment clients include Twentieth Century Fox, Comedy Central, NBC Universal Media, MGM, Sony Pictures Entertainment and Warner Bros. Corporate projects have involved the National Park Service, the University of Massachusetts, Pepsi, Arbor Mist Winery and Microsoft. More at Media Services.As an artist, Don designs and builds interactive installations, fusing sculpture with time-based media. Visit Portfolio. Don has taught film production and appreciation workshops in Rio de Janeiro, Brazil; Los Angeles, CA; and Southeastern, MA and co-founded the new media, film and arts initiative, BridgeThink.org which connects creative communities and promotes cross-pollination between fields. Additionally, he serves as the artistic director for the Buzzards Bay Film Festival and is an advisory committee member for AHA! New Bedford.