Echofluxx 14
Echofluxx 14

is a free festival of new media, visual art, and experimental music produced by Efemera of Prague. This year it will again present international and Czech performers in a five-day festival at the Tracfačka Arena in Prague, Kurta Konráda 1, Prague 9, May 6-10, 2014. For more information contact: info@echofluxx.org



Echofluxx 14

je festival nových (zvukových a filmových) médií, vizuálního umění a experimentální hudby.
Festival se koná 6–10. kevetna 2014 v Praze v prostoru Trafačka Arena,
Kurta Konráda
, Praha 9. Kontakt: info@echofluxx.org


Gallery Installation
by
Diana Winklerová
and Dan Senn

Media Performances

curated by Dan Senn

Concert of Experimental New Music

curated by Lenka Kozderková and Markéta Mazourová

.
Live Streaming of Performances

by David Means and Michael Karman
Festival Celebration Party

the Echofluxx Ensemble and Agnus Kutas and friends.


---



Live Broadcast

with David Means and Michael Karman. Click on the photo below for pre-festival interviews and live festival broadcasts.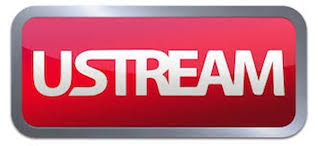 ---
Festival Concept
The echo of the fluxus movement resonates in this time—a ongoing hedge against the exclusivity of discipline-specific art and music.

Echofluxx 14

, a festival of new media, art and music, presents a spectrum of new art and music, from experimental film and poetry, to experimental music and art. It uses an organic curatorial method, with artists suggesting artists who would like to present with other artists, and so on. The festival is made possible with the assistance of volunteer help and in-kind support.

V současném umění silně rezonují ozvěny hnutí Fluxus a jeho neustálého zpochybňování výhradního postavení jednoznačně definovaných uměleckých a hudebních proudů.

Echofluxx 14

, festival nových médií, umění a hudby, představuje rozmanitou škálu nového umění a hudby, od experimentálního filmu přes poezii až po experimentální hudbu a výtvarné umění. Festival volí organickou kurátorskou metodu, kdy přizvaní umělci navrhují spolupráci s jinými umělci, kteří se chtějí představit spolu s dalšími umělci atd.
Join Echofluxx on Facebook.
Donate to Echofluxx 14 Directly
Echofluxx 13 is produced gratis by Efemera of Prague by a small group of dedicated artists. The festival is further made possible by inkind contributions of audio and video equipment from Prague art & music schools, local businesses, individual artists and art organizations. Artists sometimes receive funding from international government agencies for travel. When they arrive in Prague, they are housed in volunteer homes. There is a open bar for the festival which raises some money. But Efemera is mostly on its own to produce a festival which represents the current state of new media, music and art internationally in a truly great cities—

and we need your help

. Last year contributions ranged from $1 to $1000 and once everyone was paid, not a crown was left. Unlike most other edgy festivals, we pay our performers. The money we raise through contributions is simply divided amongst the presenters.

So please click on the donate button below

and send us what ever you can. All contributors will be listed in the festival program unless requested otherwise. Those contributing over $50 will be sent a Echofluxx 13 DVD of the festival presentations. If you contribute $1000 or more, we will find you a place to stay during the festival.


Celý festival zdarma produkuje skupinka zapálených umělců Efemera of Prague . Jeho organizace je možná rovněž díky podpoře pražských uměleckých a hudebních škol, místních firem a jednotlivých umělců a uměleckých organizací, které nám zdarma poskytly audio- a videotechniku. Některým umělcům hradí cestovné zahraniční vládní organizace. V Praze jim ubytování poskytují zdarma dobrovolní hostitelé. Určitý příjem máme také z provozu festivalového baru. Festival, který na půdě světových velkoměst seznamuje veřejnost se současným stavem v oblasti nových médií, hudby a umění v mezinárodním kontextu, však z převážné části připravují členové sdružení Efemera sami —

a potřebují vaši pomoc.

Veškeré příspěvky, které se loni pohybovaly od 1 do 1000 $ (od 20 do 20 000 korun), jsme do poslední koruny věnovali umělcům. Na rozdíl od jiných alternativních festivalů poskytujeme zúčastněným umělcům honorář. Utržené peníze mezi ně jednoduše rozdělíme. Chcete-li nás tedy jakoukoli částkou podpořit,

klikněte prosím na tlačítko Donate

. Jména všech, kteří festival.


Volunteer for Echofluxx 14
We could use your help for the festival. We are looking for volunteer cars and drivers, flats for artists, technical expertise, lighting experts, docents, and art installers. Also, if you have a PA, especially a subwoofer, or video projector to lend, this would be useful. Contact Dan at dan@echofluxx.org.

Pomozte nám s organizací festivalu! Hledáme mobilní dobrovolníky s auty, řidiče, hostitele pro ubytování umělců, techniky, osvětlovače a pomoc při instalaci výstav. Vlastníte-li reprosoustavu, především pak subwoofer nebo videoprojektor, oceníme, pokud nám je zdarma zapůjčíte. Kontaktujte Dana na dan@echofluxx.org.

---
DOCUMENTATION OF PAST
ECHOFLUXX FESTIVALS
Echofluxx 13 Video Documentation
(Click on artist for video)
Michal Cáb and Peter Gonda,
OEM,
Lucie Vtková and Jolana Havelková
, Martin Blažíček and Michal Žboříl
, Brigid Burke
, Martin Janíček and Bethany Lachtorin
,
Michael Schumacher
(intro)
,
Jamchestra,
Joanna Adamczewska,
Echofluxx Ensemble,
Michal Cimala
,
Frances Sander & Dima Borzon,
and Yves Degoyan
.

Echofluxx 12 Documentation

(Click on artist for video)
EVERYDAY NATURE
see gallery exhibition
.
Presentations by
Lukasz Szalankiewicz
;
Marcus Bergner
with
Marek Bouda;
Daniel Hanzlik and Pavel Mrkus;
Dan Senn

;
David Means

; Toine Horvers

with
Marcus Bergner,
Jose Pablo Estrada Torresca

and

Mojmir Pukl
;
Krzysztof Topolski,
Anja Kaufmann
and
Kate Lee
;

George Cremaschi
;
Michal Cimala
and
Aleš Zemene.
"Sound Room" Installation
see exhibition



early reflections

concert: compositions by

Michal Rataj

;
Andrea Sodomka

;
Markéta Mazourová

;
Sylva Smejkalová
with

Quido Sen
.

David Means' interviews
with
Krzysztof Topolski
and
Lukasz Szalankiewicz
on
USTREAM.



Festival Photos

see slides




---
Echofluxx 11 Documentation (buy DVD)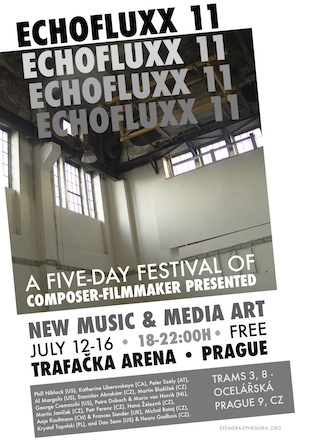 (Click on artist for video)
Phill Niblock, Phill & Katherine Liberovskaya, Katherine & Al Margolis, Al Margolis, Michal Rataj, Michal and Ivan Boreš, Ivan Boreš, Peter Szely, Martin Janíček & Petr Ferenc, Martin Blažíček & Krzysztof Topolski, Anja Kaufmann & Frances Sander, George Cremaschi, Hana Železná, Petra Dubach & Mario van Horrik, Hearn Gadbois.


.
Echofluxx 11 site







Festival Schedule
Tuesday

,

May 6: festival gallery exhibition (opening) 6p;
Phaerentz

(Prague);
Lucie Vítková
(Brno)
.
Presentations start at 8p.


Wednesday

,

May 7: gallery/installations ongoing;
John Keston
(Minneapolis)
;

Michal Kindernay

(Prague).
Presentations start at 8p.


Thursday

,

May 8: gallery/installations ongoing;

Mark Zanter
(Marshall University)
Dariusz Mazurowski
(
Gdansk);
Presentations start at 8p.


Friday

,

May 9: gallery/installations ongoing;
Lenka Kozderková

and

Markěta Mazourová

(Prague);
Brigid Burke (Melbourne, Australia);
Presentations start 8p
.
Saturday,

May 10: gallery/installations final day;
Echofluxx Ensemble

with

David Means

(Minneapolis)

and others

;
Hana Železná
(Prague)
;
Agnes Kutas
(Prague).
Presentations start
at 8p.
---



Úterý

,

6. Kvetna: vernisáž výstavy v 18.00; Phaerentz
(Prague); Lucie Vítková

(Brno)

.

Začátek programu ve 20.00.





Středa

, 7.

Kvetna

: pokračování výstavy;

John Keston

(Minneapolis);

Michal Kindernay

(Praha). Začátek programu ve 20.00.



Čtvrtek

,

8.

Kvetna

: pokračování výstavy;

Mark Zanter

(West Virginia)

Dariusz Mazurowski

(Gdansk). Začátek programu ve 20.00.



Pátek

,

9.

Kvetna

: pokračování výstavy;

Lenka Kozderková

(Praha) a

Markěta Mazourová

(Praha). Začátek programu ve 20.00.



Sobota

,

10.

Kvetna

: poslední den výstavy; festivalová párty

;

Echofluxx Ensemble

; Hana Železná (Praha); and

Agnes Kutas

(Praha).

Začátek programu v 20.00.




GALERIE PUPPENKLINIK INSTALLATION


(hear sound)



A collaborative sound installation by Diana Winklerová (Prague) and Dan Senn (USA) in Galerie Puppenklinik. Opening May 6 at 18h.

---
---
Lenka Kozderková (Prague)
is graduate of State Conservatory in Ostrava, Janacek´s Academy of Music and Performing Arts. She took part in several international courses of interpretation lead by Severino Gazzelloni, Maurice Bourgh, Sandor Vegh, Zuzana Ruzickova, Eli Eban. In 1994/95 she gained the annual scholarship of French government for the study at Ecole Normale de Musique de Paris Alfred Cortot at professor Christian Lardé. Since 1994 she has been a member of the Czech-French experimental group "Theatre Ensemble" and of the musical-stage duo Goelan. Since 1995 she has been a member of the contemporary music ensemble Moens. She is a known interprete of contemporary music. She premiered many compositions of composers such as: Alois Piňos, Peter Graham, Jan Klusák, Ivana Loudová, Miroslav Pudlák, Hanuš Bartoň, Roman Zdeněk Novák, Arnošt Parsch, Michal Nejtek, Miroslav Srnka, Michal Rataj, Martin Marek, Sylva Smejkalová, Jaroslav Rybář, Pavel Zemek, Kateřina Růžičková, Lenka Kilic and some works were dedicated to her. She performs in the Czech Republic and abroad – France, Italy, USA, Germany, Spain, Hungary, Sweden, England. In 2007 she performed the Zeitmasse of Karlheinz Stockhausen at Carnegie Hall in New York. Since 1999 she has cooperated with the Foundation VIZE 97 of Dagmar and Václav Havel. She teaches at the Prague International Conservatory, International Mastercourse in Prague - Zbraslav and International Mastercourse in Teplice /Music without borders.
Markéta Mazourová (Prague)
is percussionist and composer. Her creative output includes music for percussion and incidental music. She graduated of the Academy of Performing Arts in Prague–percussions (2001-2006), Conservatory of Prague–percussions, piano, composition (1994-2000). She followed Master classes with Marina Čeremuchyna, Kevi Bobo Run Martinsen, Hans Treselt. She works and plays with flutist Lenka Kozderkova, famous Czech artist. She has recorded for Universal, Sony Music, Popron, ArcoDiva. She has performed in Egypt, Rumania, Bulgaria, Malta, USA, Czech Republic (Prague Symphony Orchestra, Prague Philharmonia, Agon Orchestra, etc). Selected works: The Flash of Dark, for flute and small percussion (shakers, cabasa, bongos, templeblocs, log drum). Awards: 2nd prize of the International Evaluation Children´s Note Mladá Boleslav 2004; 1st prize Zlíntalent 2003; 1st prize of the YMFE-Scholarship Competition 2001.
The dancing feet of Agnes Kutas


Agnes Kutas (Budapest-Prague)
is
a singer and violonist from Budapest, Hungary, of extraordinary depth, range and talent. Her violin playing is rich and warm as is her voice and absolute directness. She performs her own original compositions in additation to aranged hungarian folk songs. She has been living in Prague for a long time. Her music is an urgent, unaffected song, free of all the sugary sweets, and spiced with a hot paprika.

David Means (USA) graphic scores, installations and performance systems have been exhibited and presented by the Walker Art Center, IRCAM, Documenta IX, the Xi An Conservatory of Music (China), Het Stroomhuis (Holland), Logos Foundation (Belgium) and the Arts Council of Great Britain. He is currently an Associate Professor of Media and Fine Arts and producer of the Strange Attractors Festival of Experimental Intermedia Art at Metropolitan State University. David contributed greatly to Echofluxx 12 as a technician, performer, U-Stream interviewer and video-photo documentarian for Echofluxx 12.
Michael Karman (Portland)
is the publisher, editor, and chief writer of

Asymmetry Music Magazine

, an online magazine that is devoted to contemporary music. Karman lives in Europe and Oregon after many years living in the Los Angeles area. He trained as a musician, is a novelist, and has taught writing for many years at university. Here is a recent interview of Michael in a Portland publication.



Efemera of Prague - Festival Organizers
Dan Senn (USA),
Tereza Kučerová (Czech)
Petra Vlachynsk
á
(Czech)
,
Diana Winklerová (Czech)
, David Means (USA);
Caroline Senn (Australia), Ladislav Železný (Prague) and Martin Janíček (Czech).

Dan Senn

(Wisconsin

)
is an intermedia
artist in the fluxus tradition working in music composition, kinetic sound sculpture, experimental and documentary film. In the 1980s and 90s he was a professor of music and art in the United States and Australia. Dan travels internation
ally as a lecturer, performer and installation artist and lives in Prague, Czech Republic, where he directs the Echofluxx media art festivals, and in Watertown, Wisconsin, the USA, with his partner Caroli
ne Daniel Senn. He studied music and art at the University of Wisconsin at LaCrosse with Truman Daniel Hayes and Leonard Stach, and at the University of Illinois, Urbana, with Salvatore Martirano, Ben Johnston and Herbert Brun. His music is published by Smith Publications of Baltimore. Dan founded Newsense-Intermedium of Tacoma, Washington, and cofounded Roulette Intermedium of New York City. He is artistic director of Efemera of Prague
.


With Special Thanks to...

Jiří Sovinec & Petra Vlachynská
equipment transportation
. and
Ladislav Železný,
curatorial assistance.


Echofluxx 14 on YouTube
(full performances)
Echofluxx Ensemble,
David Means, Director
Lucie Vítková, solo performance

John Keston
,
solo
performance
Lenka Kozderkov
á

,

work by Dan Senn

Lenka Kozderkov
á, work by
Lucie Vítková
Lenka and
Markéta 1 of 2, ensemble work

Lenka and
Markéta 2 of 2, ensemble work
Agnes Kutas 1 of 2,
solo
performance
Agnes Kutas 2 of 2,
solo
performance
Brigid Burke
,
solo
performance
Phaerentz
,
solo
performance
Dariusz Mazurowski
,
solo
performance
Michal Kindernay
,
solo
performance
Mark Zanter
,
solo
performance

Puppenklinik Installation,
Diana Winklerová
& Dan Senn (sound only)

Performing A
rtists
Phaerentz (Prague)
(Petr Ferenc) is a Prague-based electronic musician, promoter and music journalist. Phaerentz focuses on physical qualities of sound and its reaction with space and listeners' bodies and minds. By phase shifting of short loops he creates surprising acoustic and polyrhythmic phenomena that cannot be fully anticipated beforehand. The result is a psycho-acoustic minimalist experience that focuses on extended repetition as a means to discovering motion in static. It's psychophysical! Minimalism. Pulse. Throbbing spaces. Repetition is the strongest variation possible. Slow development and living through every single second. We do not want to skip the time of our lives, do we? Better be real than postmodern.
Lucie Vítková (Brno)
is a composer, performer and improviser of accordion, harmonica, voice and dance from the Czech Republic. She graduated in accordion performance at Brno Conservatory in 2010 and composition at Janáček Academy of Music and Performing Arts in Brno (CZ) in 2013. During her Master Degree, she studied at Royal Conservatory in The Hague (NL) and at California Institute of the Arts in Valencia (USA). She has studied with Martin Smolka, Jaroslav Šťastný, Martijn Padding, Gillius van Bergijk and Michael Pisaro. Along with her study of music she used to teach tap dance at the Faculty of Theatre of JAMU. She is member of the Dust in the Groove, Ensemble Marijan, Dunami, Brno Improvising Unit and Prague Improvisation Orchestra. At the festival Echofluxx 14, she will introduce her new album Ideas and Techniques, released by Chicago label pan y rosas (2014). It is solo accordion album which gathers the ideas and techniques which Lucie Vítková collected through her practice as an improviser. In every piece I tried to portray certain phenomena in their pure, concentrated form to make their individual characters clear. Every song is like a mechanism with a specific kind of natural behavior, which determines its musical structure.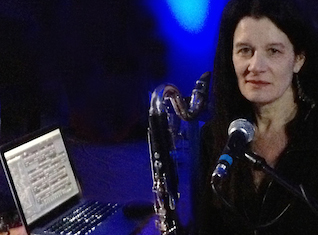 Brigid Burke (Melbourne)
is an Australian composer, clarinettist, visual artist and video-maker. She has had works performed extensively both nationally and internationally. Most recently, she has performed in the Generative Arts Festivals in Rome & Milan Italy, Asian Music Festivals, The Melbourne International Arts Festival, Futura Music Festival Paris France, Mona Foma Festival Hobart, The International Clarinet Festivals in Japan and Canada also Seoul and Australian International Computer Music Festivals. She was Artist in Residence at ADM NTU Singapore. She has been a recipient of an Australia Council Performing Arts Music Project Fellowship. She also curates Seensound Visual/Music series at LOOP Bar Melbourne Australia. For her E14, Brigid will present an audiovisual composition

Instinct and Episodes

for bass clarinet, live electronics/laptop and live and pre-recorded video projection. The creative process evolves from reflection upon glass buildings.

VIMEO
.
John Keston (Minneapolis)
John Keston is a musician, composer, sound artist, and developer exploring the synesthetic relationships between auditory and optical landscapes. His work evokes stochastic behaviors in compositional structures by translating visual or gestural input into music. Among the instruments he has created is the Gestural Music Sequencer or GMS, an application that analyzes video input and converts it into a sequence of musical information in real-time. Originally from the United Kingdom, John is currently based in Minneapolis, Minnesota where he is an instructor of interactive media. He founded the sound design resource, AudioCookbook.org, where you will find articles and documentation about his projects and research. John has spoken, performed, or exhibited original work at Northern Spark, the Weisman Art Museum, the Montreal Jazz Festival, the Burnet Gallery, Walker's Point Center for the Arts, the Minnesota Institute of Art, the In/Out Festival of Digital Performance, the Eyeo Festival, INST-INT, and Moogfest. He produced and performed in the piece Instant Cinema: Teleportation Platform X, a featured project at Northern Spark 2013. He composed and performed the music for In Habit: Life in Patterns (2012) and Words to Dead Lips (2011) in collaboration with the dance company Aniccha Arts. John's performance was made possible by a grant from the American Composers Forum with funds provided by the Jerome Foundation.John's presentation at Echofluxx is titled "Vocalise Sintetica" and has 4 movements: I. Machines, II. Liquid, III. Vocalise, and, IV. Sintetica. He describes these in this way "Each movement is a playlist of five audiovisual objects that are instantly available to be projected and amplified while being granulated in real-time by a performer using a multitouch interface. The performer may loop their gestures applied to the audiovisual objects in order to bring in additional synthesized sound layers that contrast or mimic the audiovisual objects."
Hana Železná
(Prague)
works as a director of film and radio documentaries dedicated to experimental film and interdisciplinary projects which connects video with music and dance. In her documentaries, the focus is on the portrait, a stylized genre characterized by a very sensitive and specific rendering of the subject. Her experimental film work has the character of the Media Research and contains elements of surface erosion, decay and loss of the image carriers such as meaning copying and multiplication. Even so, her work leads one to more intimate experience with the image. Železná uses the degradation of media surfaces as part of a broader dramaturgical framework which connect personal references, formal procedures and specific properties of the medium.
(Click to enlarge image from NOISE above)

At Echofluxx 14, Hana will be presenting her work

NOISE

(ŠUM) which is an acoustic and vocal composition varying the topic of media mechanisms, manipulations, and multiplication. The sonic form is based on a fragment of the script of an acoustic and textual composition called The Dislocated Transition into a Dream (Vymykavý pohyb do snu), which I wrote at the beginning of 2012 thanks to a Ministry of Culture scholarship. The idea of the composition arose and settled gradually during the time in which newspaper articles, radio and TV programmes presented to me heaps of recycled mutations of the same content, stale means of expression, and stationary programme schemes. In the resulting form I tried to confront the world of the media, whose pedestals are buried in viewer ratings pie charts and in programme success charts, using its own mechanisms – multiplication and manipulation. The composition develops by gradually piling up words, multiplying them and by slight variations and loops of meanings referring to the autotelic nature of many media mechanisms. Besides vocally rendered texts the composition also works with classical music. The way of its use refers to the threat of downplaying the works of art embedded in the thoughtless world of the media, i.e. in the world whose frequent main goal is to produce something only for the sake of production. More about NOISE.

see E11 presentation

.
Mark Zanter (West Virginia)
iis composer/performer, has received commissions from the UIUC Creative Music Orchestra, CU Symphony, the American Composers forum, the WV Commission on the Arts, WVMTA, Due East, Solen Dikener, Rick Kurasz, Cetin Aydar, Ankara University Soloists, Lindsey Goodman, Trifecta!, Awea Duo and many others. He has appeared as a composer and performer on NPR's Live at the Landmark, WILL, IPR, Second Sunday concerts, on WVPN In Touch With The Arts, is published by Les Productions d'OZ, Schott European American and MJIC Music publishing, his works have been performed nationally and internationally at festivals including, MUSIC X, June in Buffalo, The Cortona Contemporary Music Festival, NYCEMF, the Atlantic Center for the Arts. He is the recipient of grants/awards from The American Society of Composers and Publishers (ASCAP), The American Music Center (AMC), The American Composers Forum (ACF), Meet the Composer, The West Virginia Division of Culture and History, WV Music Teachers Association; in 2014 Lament and dream for string orchestra, piano and percussion received special distinction for the ASCAP Rudolph Nissim Award. Dr. Zanter is equally at home performing standard repertoire, creative music, and jazz and has appeared with orchestras, chamber groups, and improvisers, including the Huntington Symphony Orchestra, the Ohio Valley Orchestra, Sinfonia Da Camera, Anthony Braxton, Roscoe Mitchell, Leroy Jenkins, Vinko Globokar, George Lewis, Butch Morris, and Alphonse Mouzon. He has recorded with Deborah Richtmeyer, Vinko Globokar, and his recording of Composition 165 with Anthony Braxton received special mention in Downbeat Magazine. Zanter's Echofluxx 14 program will feature new compostions for electric guitar and live processing
.
Performance
examples 1,
2
and
3
.
Dariusz Mazurowski (Gdansk)is a Polish classical electroacoustic music composer, born in Gdańsk. In his works he combines traditional analog instruments with the sonic potential of digital technology and microphone recordings. Also active as a visual artist (graphics, drawings, photography and video) and as a journalist (publishing texts mainly devoted to contemporary music : history, perspectives, theory, technical aspects and studio technology). He spent the 90s mostly in Prague, since the end of that decade back in his hometown again. Since mid 90s he's built his own analog experimental instruments (including synthesizers) and collected various, often strange, sound objects (such as stones, pieces of wood, old mechanisms etc.), regarded as a source of acoustic material for further transformations. His musical works have been aired by various radio stations, played live at festivals and other events – in Europe (Germany, Poland, Czech Republic, Russia, United Kingdom to name a few) and outside (USA, Canada and China for example). His installations, visual works and graphics have been exhibited in numerous galleries around the world. Dariusz Mazurowski is a member of Polish Society of Electroacoustic Music (PSeME).


Michal Kindernay (Prague) is interested in the interactive connections of sound, image and natural atmospheric processes. He works primarily with visual programming and environmental applications. His works include video performances and interactive installations, intermedia and documentary projects as well as musical compositions. He also invents tools and software solutions that can be used for audiovisual production in performance. In this sense, his work inextricably combines research, software development and tool design, the work itself being result of implementation in different forms. "Eye-catching" is an ecological aspect of Kindernay's work which is extensively engaged with various forms of pollution and only sometimes in the position of direct visualization (Art Pollution Kit, Camera Altera) and more through a creative perspective.